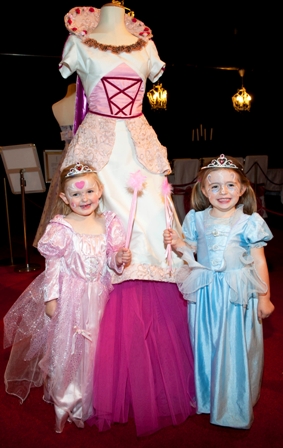 World of Princesses has been running in The Ambassador Theatre over the past few months and has proven so popular that they recently welcomed their 10,000th visitor. Because of the overwhelming demand, the all-new thematic celebration of all things princess has been extended.
Thousands of little girls who dreamed of becoming a princess, experienced a magical day out at the O'Connell Street venue, and if your daughter still has yet to attend, the event is now open on Saturdays and Sundays from 10am to 6pm.
World of Princesses showcases real princesses, as well as classic fairytale princesses, and guests can actively participate by earning their official Princess Certificate.
Upon entering the exhibition, guests receive a Princess Passport and use it to record various answers and discoveries along their way. Then later they can use this information online and download a personalized Princess Certificate commemorating their visit and granting them status (membership) in the Princess Academy.
The World of Princesses is an experience like no other, for every child who has ever dreamed of wearing a tiara.
The World of Princesses at The Ambassador Theatre, Dublin
Open on Saturdays and Sundays 10.00am - 6.00pm
Tickets: Children and Adults €8.50 including booking fee
Tickets from Ticketmaster and usual outlets nationwide. Service charges may apply.
Tel 24 hrs: 0818 719 300(ROI) / Tel: 0844 277 4455 (N Ireland).