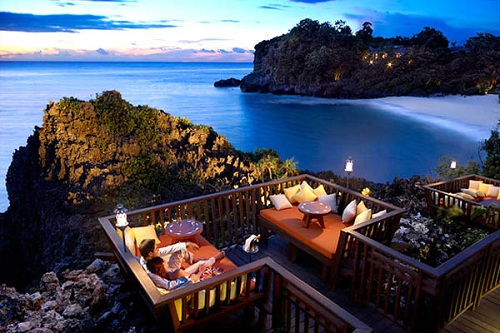 When you really want to get away from it all with your loved one, set your sights on one of these beautiful islands for a real romantic experience to remember.
Lanai
With a population of roughly 3,000, Lanai offers a glimpse of what other Hawaiian islands were once like. Explore Lanai City, a former pineapple plantation settlement, and get lost among cloud forests and lava cliffs. Two of the three hotels on the island are Four Seasons (the other is Hotel Lanai), and the location at Manele Bay is a short hike to the windswept Sweetheart Rock.
Fiji
Among the 300-plus islands of Fiji, the most famous is arguably Turtle Island, where the movie Blue Lagoon was filmed. Today the resort takes only 14 couples at once. Similar seclusion can be found on Qamea Island and its eponymous resort where 10 beachfront bures (thatched-roof bungalows) sit amid coconut groves for maximum privacy. When the lali drums sound, it's time for dinner. The rest of your holiday time together in Fiji might include private picnics, waterfalls, snorkeling, and a traditional kava ceremony at a welcoming local village.
Maui
Peel back the tropical-paradise facade of this Hawaiian island to reveal a rich variety of landscapes: the otherworldly summit of the volcanic crater Haleakala; the sugarcane fields and farms like O'o Farm, and the 1900s cowboy town of Makawao.
Bali
Bali's been at the centre of the romance circuit for decades, if not centuries, with couples drawn to the mist-shrouded temples, mountainous landscapes, Balinese art, and world-famous friendliness of the locals. The island got a recent boost from the success of Eat, Pray, Love, whose film crew chose the white-sand Padang-Padang beach as a backdrop. Just a short drive away from here is the new Le Méridien Bali Jimbaran with a saltwater lagoon pool.
Maldives
This remote Indian Ocean archipelago greets travellers with white-sand beaches and secluded high-end resorts that lure honeymooners and celebrities. The world's lowest-lying nation has a close union with the sea - where you'll find a hotel with a coral nursery and an underwater nightclub.
Santorini
If there were ever a place that could get by on its looks, it would be Greek island Santorini. Whitewashed cave houses framed by bougainvillea and backed by blue-domed churches spill down the rim of an ancient volcanic crater; at sunset, the Sea of Crete is bathed in a beautiful glow.
Capri
Known for its limestone cliffs and waterfront villas, this four-square-mile Italian island in the Tyrrhenian Sea fully embraces the concept of 'la dolce vita'. A railway whisks visitors from the main port to the boutique-lined streets of Capri town. There, stroll through the gardens of the 19th-century Villa San Michele with stunning ivy-covered statues to greet you.
Bora-Bora
What could be more seductive than an overwater bungalow above a turquoise lagoon? That's the essence of the island Bora-Bora nestled in the striking French Polynesia. At its heart lies the jagged peak of Mount Otemanu, while on its fringes sits tiny motus (islets) and a coral reef with a swirl of colourful marine life.
Image via Pinterest.