As 2019 draws to a close, Bloom & Wild have revealed the top baby names of last year and highlighted key naming trends and inspiration for expectant parents in 2020.
Having found that flowers, film, TV and celebrities are the most influential factors for baby names, they've predicted which names will see a rise in popularity next year, based on current pop culture trends.
Floral first names
Classic names for girls inspired by flowers are back in vogue in a big way. Poppy tops the list of botanical-inspired names with no fewer than 2,226 baby girls named after the iconic red flower in 2018. This is closely followed by Lily in second place, which also appears again at number seven, albeit with a different spelling (Lilly). Ivy is the third most beloved floral name, while Willow sits pretty at number four.
Marisa Thomas, Head of Brand at Bloom & Wild said, "Floral names such as Poppy and Lily continue to be popular names for girls, and we're also starting to see a resurgence of older names such as Ivy and Violet. Also on the up are more unusual floral names like Willow. We think rarer choices like this will continue to grow in popularity over the next few years."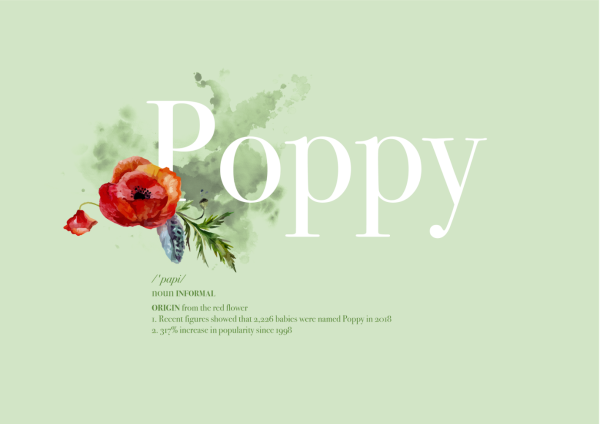 Top 5 floral names for girls
1. Poppy
2. Lily
3.Ivy
4.Willow
5.Daisy
Film and TV: Names up in lights
Few TV shows have enraptured modern society more than Interwar-era gangster series Peaky Blinders or fantasy saga Game of Thrones, according to the 2018 ONS baby name data. The bad behaviour displayed by Peaky Blinders' Shelby brothers hasn't stopped parents from naming their baby boys Arthur or Thomas, who respectively sit at number one and two on the list names inspired by film and TV.
Top 5 TV and film names for boys
1.Arthur
2.Thomas (Tommy)
3.Freddie
4.Logan
5.Eric
The film world also made a major impact on the list. Rami Malek's Oscar-winning portrayal of Freddie Mercury in the biopic Bohemian Rhapsody made the legendary Queen frontman the king of cool for a whole new generation. And saw the name Freddie shoot to number three in this category. Over in the land of superhero cinema, Wolverine's 2017 box office smash, Logan, helped the name land at number four.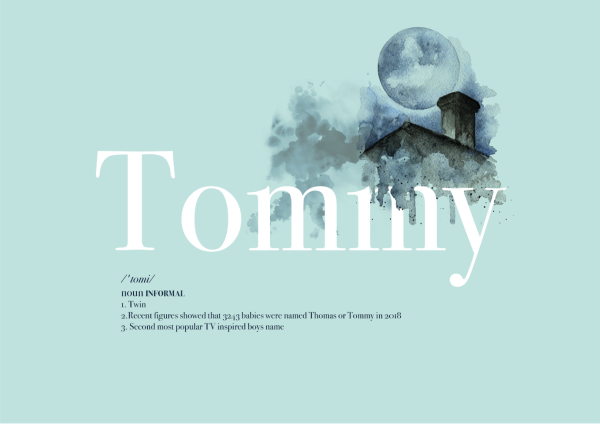 Top 5 TV and film names for girls
1.Isabella
2.Isabelle
3.Bella
4.Nancy
5.Ada
The recent live action remake of Disney's Beauty and the Beast had everyone falling in love with the classic fairy tale all over again. This affection is evident looking at the list of girl's TV and film names, with Emma Watson's portrayal of the beloved character Belle likely influencing the entire top three.
It's no secret that Peaky Blinders has dominated TV ratings as of late, and this is evident as popular character Ada Shelby helps 'Ada' clock in at number five.
Celebrities: Making a name for themselves
Game of Thrones actors Emilia Clarke and Maisie Williams were also two of the biggest celebrity names for baby girls, with both ladies' monikers making an appearance in the top five. Millie Bobby-Brown from Stranger Things ranks in fourth place, while Star Wars actress Daisy Ridley charts second – although we think the delicate, white-petaled flower may have also had some effect.
Top 5 celeb names for girls
1.Harper
2.Daisy
3.Emilia
4.Millie
5.Maisie