Being pregnant is tough. You are growing a tiny human inside you (no small feat!) so, naturally, your body is going through all kinds of changes. Your hormones are all over the place; you pretty much always feel exhausted - and my God, this humid weather doesn't help! - And all this can be made worse if you have to stand for long periods of time. Think back pain, swollen feet, swollen ankles, swollen everything. Just thinking about it can be exhausting.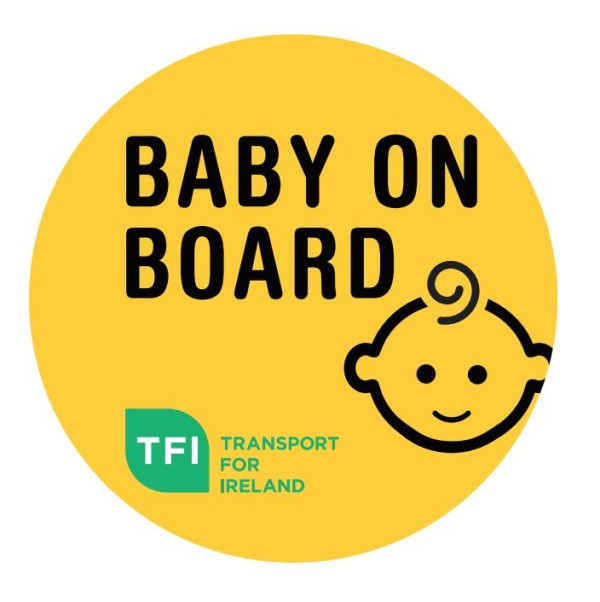 This can particularly be an issue when you're going on public transport, for example. If you're feeling wary and tired and the train/bus/Luas is packed to the gills with only standing spaces left, sometimes it's not the easiest thing in the world to ask for a seat.
And then there's the issue of passengers wanting to offer but having that sliver of The Fear. The Fear being that the woman is not actually pregnant and that the well-intended passenger has just insulted her. Que the terrible awkward silence and death stares.
Well happily, all that will be an issue no more thanks to Transport for Ireland's new Baby on Board campaign, which will see expectant mums get special Baby on Board badges, should they want them.
This small, but visible yellow badge is free of charge and informs fellow passengers that, yes, you are pregnant and yes, that seat would actually be great.
The idea is that this will allow future mums to travel in more comfort and also encourage other passengers to be good-willed and give up their seats, because it's nice to be nice.
Badges are available free of charge and are available from all public transport locations around the country - Luas, Iarnrod Eireann, Dublin Bus and Bus Eireann are all participating.
For more information head over to the Transport for Ireland website.