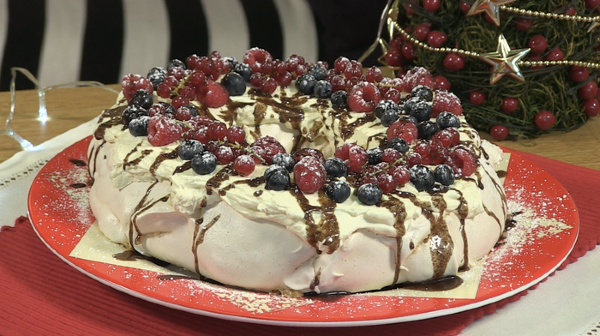 Christmas dinner is upon us, and preparation is everything.
From turkey to potatoes, no stone can be left unturned when it comes to the most important meal of the year.
Dessert is an extremely important part of the meal, and we have the PERFECT recipe, that will please everyone at the table.
Try out this delicious pavlova, you won't be disappointed.
What you'll need:
6 egg whites
300g caster sugar
1 tsp cornflour
1½ tsp white wine vingar
Chocolate sauce
100g dark chocolate
100ml double cream
2 tbsp butter
5 tbsp golden syrup
100g caster sugar
Vanilla cream
300ml double cream
3 tbsp caster sugar
1 tsp vanilla extract
Topping
100g redcurrants
100g blueberries
100g raspberries
What you'll do:
Preheat the oven to 140°C/280°F/Gas 1.
Line a baking tray with baking paper and trace a 25cm round.
Whisk together egg whites and caster sugar until soft peaks are formed.
Add 1 tsp cornflour and 1½ tsp white wine vinegar and continue whisking until stiff peaks are formed.
Spoon the meringue mix onto the paper following the line of the circle.
Place into the oven and cook for 1½ hours.
Switch the oven off and leave pavlova in the oven to cool completely overnight.
To make the chocolate sauce, place dark chocolate, double cream, butter, golden syrup and caster sugar into a small saucepan.
Heat gently over a low heat until melted.
To make the vanilla cream, whisk together the double cream, caster sugar and vanilla extract.
Spread the vanilla cream on top of the pavlova with a palette knife.
Scatter the berries on top and drizzle with chocolate sauce.