If you're anything like us and in need of some much-needed help in the organisation department, then you need to take some inspiration from the Giant Wall Command Center.
This absolutely genius idea was created by Beneath my Heart blogger Traci who says she was sick of living an unorganised way of life. She decided she needed to sort the problem and so the project was born.
Being a visual person, she admits that she needed something that enabled her to see all of her to-do tasks; by simply painting a large square on one wall using chalkboard paint and adding a few extras, she created one of the most effective and beneficial things you could ever have in your home.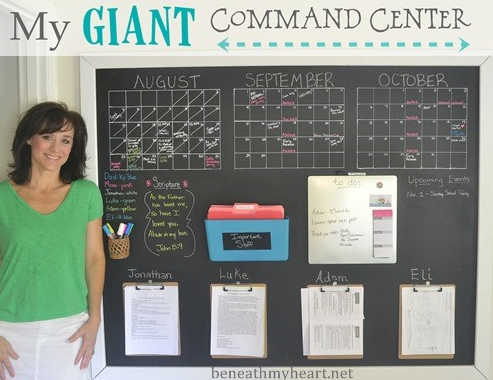 Marking out three calendar grids, she has given each of her children their own colour-code to mark their activities with. She even glued a little basket to the wall to hold the each piece of chalk.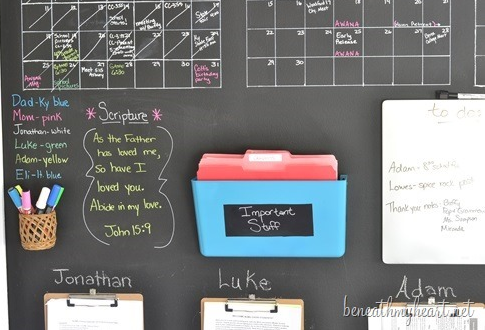 There is also a memo board right in the centre where she jots down important 'in the moment' things that she needs to remember, like items for her grocery list.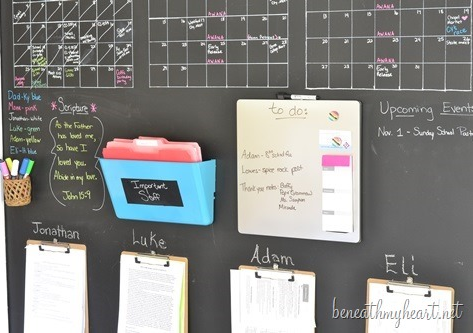 It's all very impressive, but her favourite part of the wall is her clipboards. Giving each of her children their own little board, Traci now always knows where to find any notes or papers about trips or important school dates.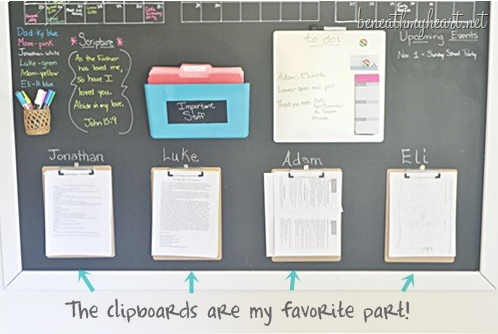 This is hands down one of the best things we have seen all day, and we absolutely need it in our house.