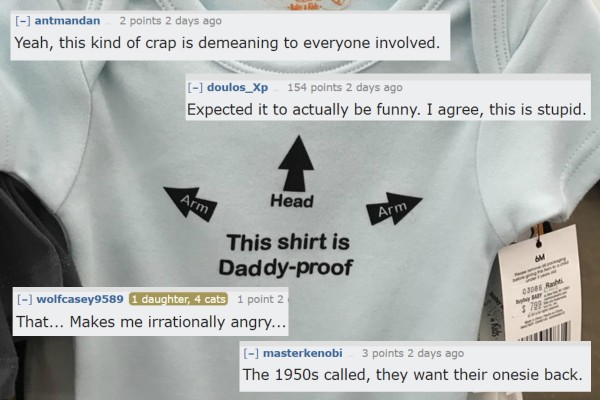 One dad was recently left furious after coming across a children's onesie with an apparently sexist slogan emblazoned across the front, while out shopping.
The dad took to Reddit to share his dissatisfaction with the slogan onesie after it claimed to be "daddy-proof".
"This shirt is bulls**t," read the caption on the Reddit post.
The onesie in question is branded with the slogan "This shirt is Daddy-proof", with arrows pointed toward where the baby's head and arms should go.
The post has attracted a huge amount of negative attention, with many dads and mums sharing their disappointment and annoyance online.
"I went to the beach this weekend and my wife went to get us snacks. Some lady saw me and asked if I was babysitting, before my wife responded, 'No, it's called parenting because he is good father'.
"This is stupid. Hate the stereotype that dads can barely hold it together with kids.
"I am a super involved dad. Like someone else mentioned – we don't babysit, we parent too."
While some saw the humour in the shirt, one mum questioned: "Just as an experiment, imagine this shirt with the slogan 'Mummy-proof'. How would THAT go over with the public?"
This shirt is bullshit. from daddit
The post has received many comments from dads who often find that their job is patronised by the public.
"When I go to a store with my newborn, so many people act like I'm a walking hero, or something. I love the attention, but I'm offended at the same time," said one dad.
"I think my biggest gripe is no changing tables in most men's restrooms. Most places I go, I just change my daughter out in the open to make a point," said another.
While many shoppers may have found this onesie mildly amusing, it has caused a lot of anger online. The Reddit post has received over 300 comments in the two days since it was posted.
But we want to know what you think - do you agree with this angry dad?