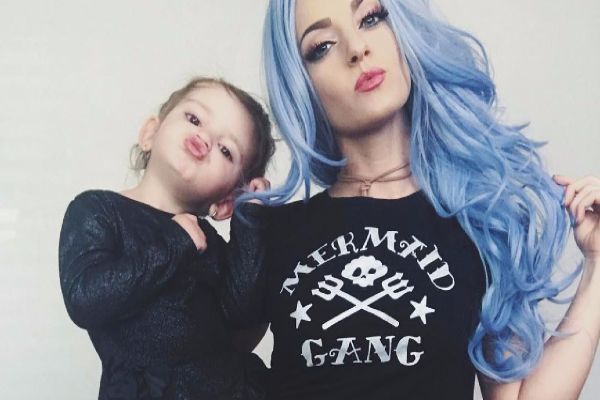 Social media star, Charity Grace Leblanc faced numerous mixed reviews after posting pictures and sharing a video of her dying her two-year-old's hair a bright pink colour.
Charity is also known for her brightly coloured hair. In her latest photographs, she is sporting long turquoise hair and shows clear signs that she is a big fan of the seapunk trend.
Her daughter City, short for Felicity, has beautiful blonde curls. Wanting to be just like her mum, she begged Charity to dye her hair hot pink.
After much coercing, Charity gave in and dyed City's hair the colour she'd been wishing for. Charity used Manic Panic temporary dye, which washes out after a few days.
Since she uploaded the controversial clip earlier this month, it has received over 39,000 views.
In the clip, City looks delighted with her vibrant locks. In the caption Charity says, "City's pink hair is now up on my YouTube channel! Link in bio! What do you guys think!? Would you let your daughter do this!?"
The blue-haired mum received a lot of praise on YouTube and Instagram.
One said: "Awesome hair, I love it!!! Great seeing a child having fun. Go Mumma, you rock!!!"
Another added: "It's so pretty. Her hair, her choice, even if she is young. She loves it, I love it."
Some were concerned about the effect the dye may have on the little girl and didn't hold back on their criticism.
One commenter remarked: "She's going to be bald by the age of 20."
Not all her followers were happy with the toddler's new look. One said: "This is so irresponsible of you. Of course she's going to want it... Shes a kid!
"She doesn't know what she wants! And you, the parent should know better!"
Another agreed: "It's common sense not to dye a little girl's hair!"
Charity used the well-known vegan product, 'Manic Panic'. The company took to the comment section to reply to Charity's concerned fans.
"Her hair is already light and not bleached. Our dye is vegan and no harsh chemical and condition based ….Her hair is being hydrated as the colour is being deposited. Also, this will rinse out of her hair in about four to six weeks. There is absolutely no harm being done to your hair when directly applying the dye to the hair follicles," the company wrote on the Instagram thread.
Parents allowing children to experiment with makeup and fashion trends continue to be a hot topic of debate. What's your opinion? Let us know!