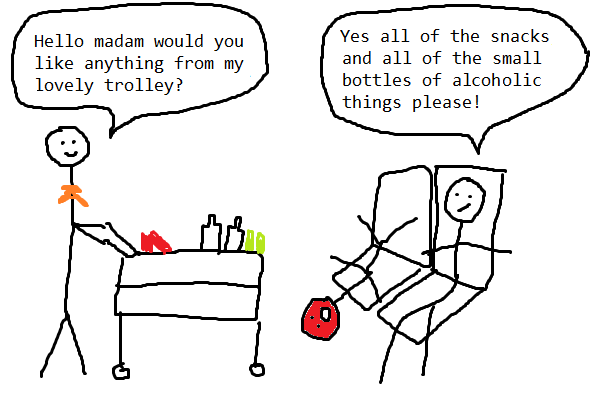 Just when we thought we couldn't love the hilarious Hurrah for Gin blog more - we read her travel piece.
Have you ever travelled to another country with two small kids? If so, we salute you.
Recently, Katie Kirby, who is the voice behind our favourite blog Hurrah for Gin, shared her travel experiences with her readers - and WOW, we can relate.
"We arrived at the airport a good 2 hours before our flight leaving plenty of time to leisurely make our way though security and have breakfast before boarding. However I hadn't considered that 2 hours only feels leisurely if you are travelling alone, with kids it's a totally different ball game," she explains, and we already know where it's going.
"Factoring in the bag drop, car seat drop, monumental tantrums, toilet trips and lost comforters we were seriously running low on time. I stressfully grabbed coffees at Starbucks in an attempt to keep our 'we only had 3 hours sleep and want to die!' thoughts at bay but with minutes to get to our gate, way too many bags/children to carry and only two hands I had to very reluctantly chuck them straight in the bin."
Oh girl, we feel you, and you haven't even gotten on the plane yet - God speed.
The best part? Katie drew hilarious sketches depicting her travel time - please enjoy.
"Luckily we made it to the plane on time and flipped a coin for who got to sit next to who. Winner got the four year old, loser got the two year old. Turns out four year old's are pretty awesome to sit next to on planes, seeing their excitement and wonder at the world has got to be one of the best bits of parenting. Even if they do end up making you feel pretty stupid."
However fun the four-year-old may have been, the two-year-old is guaranteed chaos.
"Sitting next to a two year old on a plane is errr… interesting?! Actually sorry, it just sucks. I'd rather take the difficult questions over being sat next to a person who only wants to do one of two incredibly irritating things." - same.
Katie then went on to explain the reaction of the airline staff, who apparently had short fuses.
"Unfortunately the cabin crew didn't particularly like being repetitively summoned over by a toddler who just wanted to blow raspberries in their faces; and fellow passengers didn't particularly like the headaches induced by a window being constantly punched."
"It was a difficult one to deal with though because if he was doing one of his preferred activities he was happy, and if he was being prevented from doing so, then he was audibly not happy. Quandary, quandary, what to do?! Maybe a little straw poll over the tannoy?"
"Turns out it was a lose, lose situation because everyone just wanted him to sit quietly in his seat not touching the window/buttons which was never going to happen.
So we had a lot of very different air travel experiences going on – some of the best bits of parenting, some of the worst bits of parenting and a whole bunch of miserable looking bastards who just got unlucky."
Anyone else nodding while reading this?
"We also had a few other families with young kids around us which you may assume to be a good thing. We exchanged a couple of those 'OH BLOODY KIDS!' looks but I often find that if their kids are behaving better than mine, then those knowing looks also contain an element of judgey smugness"
Ultimately, Katie indulged her tot in LOADS of goodies from the air-hostess' trolley - and a few bottles of bubbly for herself.
Mums gotta do what a mums gotta do.
"Look at all the things for him to do! Paint the seats with laughing cow dippers, soak the pointless books we bought in pineapple juice, stab us in the legs with those lethally sharp colouring pencils and eat the packet of Nutella with his fingers before wiping his hands though everyone's hair and then just… relentlessly head butting me.
But you go kid, knock yourself out! Do whatever you like, just do it quietly(ish) and leave me to my numerous, small bottles of fizz."