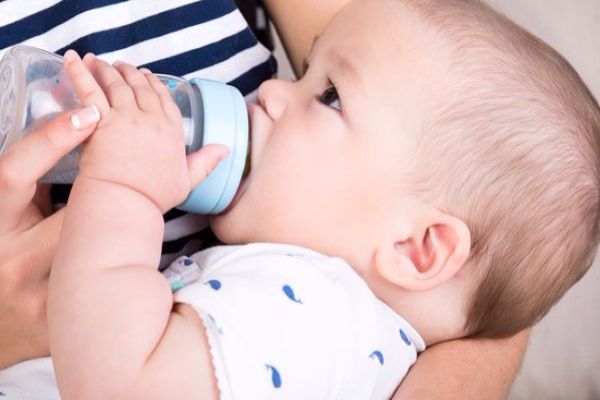 Many mums find it so frustrating to pour their unconsumed breast milk down the drain, but a handy new gadget will help put an end to that.
The aLoo Valve is designed to act as a barrier between breast milk and a bottle nipple. This allows milk to flow to the baby while stopping any backflow.
There are approximately two-and-a-half million bacteria in a single drop of baby saliva. If you reuse the unconsumed milk, you are feeding your baby all that unwanted bacteria. This is why mothers are encouraged to throw out unused milk.
However, the valve on this gadget impedes bacteria from the baby's mouth from entering back into the milk. This makes the unused milk safe to use later.
The new invention can also be used on bottles of formula, and will prove to be a huge cost-saver.
The company say it's safe and easy to use; you simply fasten the valve directly onto the cap or nipple portion of the bottle, and then use the bottle as you normally would.
"I was inspired to create aLoo because I knew that if I was feeling as guilty and frustrated with myself for not producing enough breast milk, and then having to waste it, many other mothers must be feeling this way too," co-founder Dr Aarti Mehta wrote, on the company's blog.
They also claim it has an anti-colic vent, which helps to reduce excess air ingestion during feeding. It is dishwasher safe for the first year.
"I scoured the Internet and found many innovative baby bottles, but not one that would address my issue. Working with a like-minded, entrepreneurial friend, we assembled a one-way valve and a medicine cup into a homemade prototype," wrote Dr Mehta.
"I quickly learned that there are so many innovative bottles on the market and parents/babies have their favourite brand. Knowing that there are challenges transitioning from breast to bottle, we did not want to exclude anyone merely because of bottle brand loyalty. Our initial goal is to make the device compatible across multiple bottle brands.
"Currently, our device is compatible with Philips Avent and we are planning to create more sizes that will work well with other brands such as Dr Brown's, Medela, Tommee Tippee and Playtex soon."
After going through the fundraising stage on Kickstarter, the aLoo surpassed its $15k goal, raising a total of $21k in just a month.
You can find more information about the new product on their website.