Picnics can be a fun and inexpensive way to spend an afternoon with your kids. They are a wonderful way to get some fresh air and to enjoy delicious food in a different environment. Here are some tips to ensure you have a fun-filled, relaxing day.
Choose a location that is both scenic and where the kids can play. You don't have to travel far. The children won't mind if it's their local park as long as they get to run around and eat some goodies.
Remember that people often have larger appetites when outdoors so make sure to bring plenty of food. Food that can be easily eaten with your hands such as sandwiches, cookies, fruit, sausage rolls and other finger foods are ideal. A picnic should be relaxing so the less fuss the better.
Make sure you bring plenty to drink. The kids will be thirsty from playing around so a few cartons of juice will come in handy.
While many parents might like to organise activities and games, bringing a ball might be all you need. If there are a lot of people attending the picnic you could organise games such as three-legged races or even a scavenger hunt.
Here is a checklist of items you should bring with you:

Paper plates and cups
Blanket
Paper towels
Wipes
Sun cream
Plastic bag for rubbish
Zip-lock bags for leftovers
A ball and other items you might want for games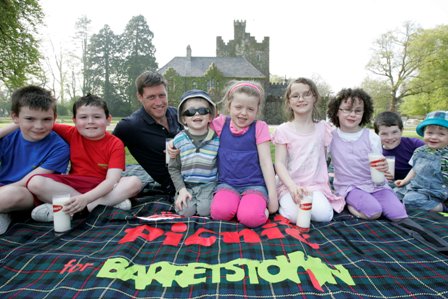 If you are planning a picnic this summer, why not take the opportunity to raise money for a worthy cause? Avonmore is campaigning to encourage families, schools, clubs, companies and individuals across the country to have a picnic and raise money for Barretstown. Avonmore will generously match every €1 raised by participants in the Avonmore Big Picnic for Barretstown.
This is the third year running of The Big Picnic and the money raised in 2011 will help to send more families to Barretstown and also provide much needed equipment and resources to help run their family camps which take place throughout the year.
Barretstown itself plays an important role in the recovery process for children recovering from serious illnesses such as cancer. Whereas a hospital's primary focus is on the physical effects of serious illness, Barretstown helps to heal the emotional scars byproviding a unique therapeutic recreation programme through a fun, activity based process of challenge, success, reflection and discovery- backed by the medical world - which helps children affected by cancer and other serious illnesses and their families regain their confidence and self-esteem.
To get involved log on to
www.BigPicnic.ie
and sign up for your free Avonmore Big Picnic pack