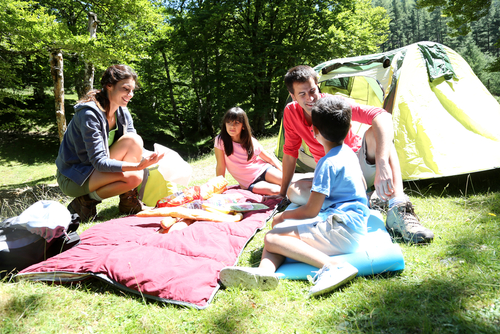 Holidays can be expensive, especially when you can only book them during school holidays. However, camping is great inexpensive way to spend time together as a family and get a much needed break away from everyday life.
Pick a good camp site
If this is the first time you have gone camping as a family, you may want to avoid totally roughing it until you get used to it. Thankfully, there are plenty of campsites around that offer great on-site facilities including showers, bathrooms and even a cooking area. Some sites even offer activities that will help keep the kids entertained.
Get the kids involved
Don't exclude your kids when it comes to deciding where to go. Remember, this is a family holiday so the whole clan should be involved in the planning stage.
Plan for the worst weather
While you may be hoping for sunshine, it is important that you plan for rain and bad weather. Make sure you bring lots of spare, warm clothes, wellies, jumpers and blankets for when you are sitting around. Waterproof gear including jackets and trousers should also be packed into the car.
Bring plenty of lights
It can get pretty dark at night so make sure you bring plenty of torches, at least one each. Don't forget the spare batteries – the last thing you want is to run out in the middle of the night.
Air mattress or foam mats
Sleeping on the ground can be hard so make sure you bring foam mats or air mattresses. The last thing you want is kids complaining that they can't sleep because the ground is too hard, especially when you want to enjoy a glass of wine in the evening.
Go to sleep
Make sure you go to sleep early enough because no doubt the kids will rise early, along with the rest of the campsite.
Bring lots of snacks
Cooking can take a long time when you are camping so make sure you bring plenty of snacks to keep hungry kids satisfied.
Lots of games
Make sure you bring lots of games for everyone to play with like footballs, Frisbees and kites. Pack plenty of indoor games as well such as cards, board games, books and even a portable DVD player for when the rain comes and you have to scramble inside.