Get the kids involved with these fun and easy to make
desserts and cakes
for the whole family. From
triple chocolate cake
,
cupcakes
to
cookies
- they are so easy and the children will love the decorating part! They can use lots of fun decorations (including chocolate buttons; miniature eggs and small packs of sweets) to create their own unique version of these recipes.
To make your life easier Avonmore Cream has come up with these top 5 tips for cooking with kids:
1.) Decide on what you are going to cook - cakes and desserts are usually the most fun as the kids can let their imaginations run wild with lots of colour and decoration.
2.) Once you have decided on what you are baking make sure you have all the ingredients
3.) Measure out the ingredients into small bowls and arrange them in order of how they are added
4.) Get the kids involved in adding the ingredients, stirring, greasing the tin or licking the bowl! Give each one a job to do
5.) Now for the fun part! Decorating! In bowls, arrange various different toppings such as mini eggs, sprinkles, edible flowers, glitter balls, chocolate buttons, Avonmore Fresh Dessert Cream, or Avonmore Freshly Whipped Cream.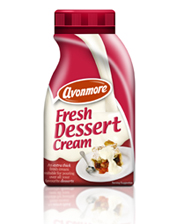 Avonmore Fresh Dessert Cream is already thickened & sweetened with a lower fat content. It comes in a handy 250ml Easy Pour Bottle which means no spills, no mess and ease of pouring. It's the perfect cream for all your favourite desserts.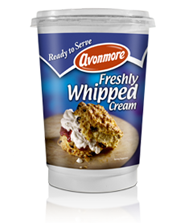 Avonmore Freshly Whipped Cream is a family favourite. This is the perfect cream for when you are in a hurry - already whipped to perfection it is the perfect finishing touch for your sumptuous desserts.
Check out these fun and easy to create desserts featured on the
cookwithavonmore.ie
recipe website.