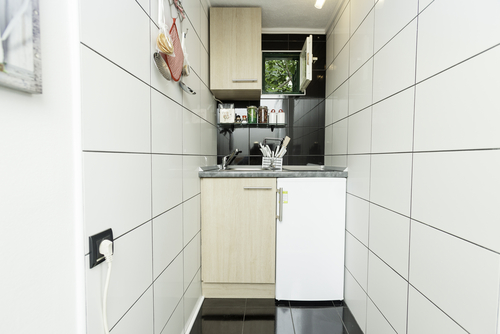 Not all of us are blessed with a large kitchen, a lot of us have to manage our lives in a tiny, pokey space that can feel cramped if there is more than one person in it.
However, before you consider extreme measures like moving out or even building an extension, why not try some of these organising tips perfect for making you feel like you have more room to work with.
Hooks
Hooks on the inside of your cabinets are great for hanging tea towels while a hook on the back of your door is ideal for an apron – freeing up draw space for something else.
Hang pots on the wall
Rather than putting your pans into a cabinet, a wooden beam with a number of hooks tightly secured to your wall is a great place to hang them.
Plenty of shelves
If you have limited amount of cabinet space, shelves on the walls are a great way to add extra storage to the room.
Use all wall space
Use up all space in your kitchen: think above your sink, over the oven, or even behind the door.
Go up high
Shelves placed up high are great for storing cookbooks or utensils that you don't use often.
Invest in an over-the-sink chopping board
If you are limited on the amount of counter space you have an over-the-sink board will give you a little more room.
Go for a fold down table
If you can, invest in a fold down table that can be made more compact for when you are cooking yet can open up a lot bigger for when you want to sit down.