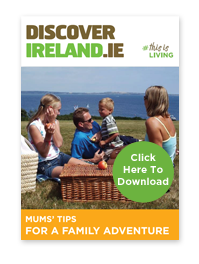 We all know that journeys - at the best of times - can take it out of you. Everyone wants to arrive at their destination stress free and ready for fun. We asked MummyPages mums to give us their top tips to keep you and your little ones smiling on your holiday in Ireland this summer.
Research is key: Make sure you do your research. Check that your desired destination is family friendly and that there are suitable activities to keep your little ones entertained regardless of the weather.
Reviews: Check reviews online for restaurants, bars and visitor attractions in the area you're staying, it's surprising how many little gems there are in Ireland
Pre-Order food: Take the hassle out of packing food for self-catering holidays by pre-ordering a grocery delivery to be delivered shortly after your arrival time.
TRAVELLING
Plan frequent rest stops: If you are travelling a long distance, make sure you have lots of stops planned along the way so your kids can use the bathroom and stretch their legs. Stop in fun spots where the kids can run around and burn some energy.
Plan around nap times: If possible plan your trip around toddler/baby nap times so they don't feel the length of the car journey and wake up fresh and ready to go when you arrive.
Give your child a map: Giving children a map to follow will distract them and make them feel like they are contributing to the journey. It will also cut down on the constant 'are we there yet?' Draw out simplified maps for the younger ones so that so they can follow where you are. They get really excited when we hit each town and it makes the journey fun for them.
ENTERTAINING
Be prepared for all weather: When you arrive at your destination, be sure to have options of activities to suit all weather scenarios. Whether you're out and about in the sunshine or doing some indoor camping, your kids will have smiles on their faces.
Daily itinerary: Have an idea what you're going to be doing every day - make an itinerary and give it to the kids. Let each child pick one activity that everyone has to join in with. They feel like they're calling the shots and get more enthusiastic for the activities.
Capture Memories: Get the kids involved in a scrap book to help store those golden memories! Bring a notepad and pen for a holiday diary. If possible have a camera each for the kids so they can take their own photos of the holiday and then make an album from there pictures. It's great to see pictures from their perspective.
For a full list of MummyPages Mum's Top Tips for Holidaying in Ireland
click here
.