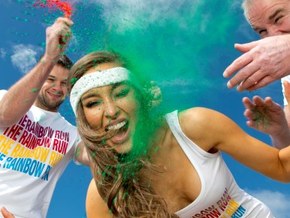 On Sunday 28
th
July, the Rainbow Run will take place along Dun Laoghaire's West Pier, County Dublin. Hundreds of participants have already signed up to be splashed with coloured paint in the first ever Rainbow Run sponsored by Vanish. The run is ideal for participants of all ages and abilities participants will be splashed with coloured powdered paint as they run, jog or walk the Rainbow Run.
Participants are advised to wear as much white coloured clothes as possible so that the different colours show up as brightly as possible. You needn't worry however about not being able to get the colours out afterwards as Vanish will be hosting the Vanish Clean Down Zone at the finish line where participants can have the powder paint removed from their clothes by Vanish specialists. They will also be handing out Vanish product to use at home including Varnish's Powerful Oxi Action Crystal White range.
Vanish also have some top tips to help participants look their best before, during and after the Rainbow Run:
Make sure that when washing your white running gear that you always check the label for any washing instructions that are unique to your particular piece of clothing.
Before you put your white running shorts into the wash, unfasten any buttons so you don't stretch and damage the garment around the button-holes.
Ensure to wash your running whites separately to dark colours. However if you do have items that include both white and dark colours, don't let the colour run by using Vanish Oxi Action 2 in 1 Magnets. Each sachet contains a powerful remover and a colour magnet which traps running colour in the wash, which helps them be redeposited in your clothes.
Don't use traditional bleach on your white running gear as it can cause an unwanted yellowing effect. Instead, try using Vanish Oxi Action Crystal White, a cutting edge product that lifts dirt out of the fibres without wearing down the fabric and gets your whites up to three shades whiter so you'll be race ready!
When ironing your sparkling running whites, try to use a steam iron as the steam can then get into creases and moisten them, making them easier to remove. It's also kinder on clothes than traditional irons as you can get a lower temperature with a high steaming setting.
Remember if kids (or adults) are eating breakfast before the Rainbow Run; protect whites by wearing jumpers or aprons.
If there are any accidental spillages there is plenty you can do to treat the stain. A stain remover like Vanish can't be beaten when treating those ugly marks. Simply apply some of your stain remover to the affected area with a toothbrush prior to the wash.
After the run, treat perspiration stains by mixing Vanish Oxi Action together with warm water and soak your whites for up to six hours. Then place a pod of Vanish Oxi Action in your washing machine and wash your whites as usual with your detergent.
If you or your kids have already been out and about in your white running gear this summer and your whites are stained with mud, soak them in water with Vanish Oxi Action before laundering them to get them looking their best.
When your whites are sparking again, try to group them together in your wardrobe or chest of drawers so you don't get any colour rub from dark clothes.