With good weather here, there will be lots to plan for - from days out with just you and your little one, to longer car journeys with the whole family – you'll need to be prepared. Once you have everything you need to keep your baby safe, occupied and happy, you'll be on the right track. Fortunately, Dunnes Stores has got you covered with their Big Baby Event, running from 16th May to 19th June.
One of the essential items for any on-the-go parent is a playpen, and Dunnes Stores is offering Babylo Safe & Secure Playpen for only €59.99 during the event. Suitable from birth, this portable playpen is lightweight and easy to set up, making it perfect for travel. It provides a safe space for children to play or rest, and features a zip-up door. It's easily assembled, due to its quick 'open and fold' system and comes with a travel bag for easy storage and transportation.
Another great item to have in the car for staycations is the Babylo Safety Gate, which is only €24.99. It's adjustable to fit most doorways and staircases, ensuring your little one stays safe wherever you go.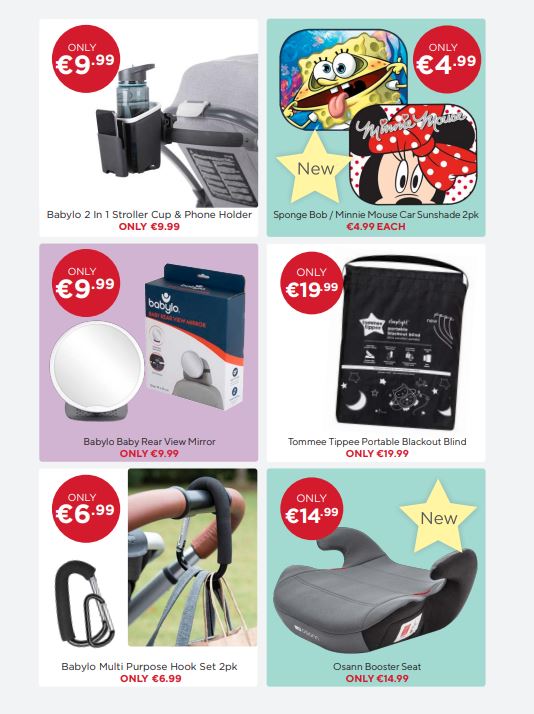 When travelling in the car, it's important to provide shade for your baby - the Sponge Bob / Minnie Mouse Car Sunshade 2pk is priced at just €4.99 and is perfect for keeping the sun out of your baby's eyes. For longer journeys, the Tommee Tippee Portable Blackout Blind is only €19.99 and provides a dark, soothing environment for your baby to sleep in.
If you're looking for a booster seat, the Osann Booster Seat is only €14.99 at Dunnes Stores. It's lightweight and portable, making it perfect for travel. And if you're going on a plane, it's worth investing in a car seat travel bag to keep your car seat protected during the journey.
Of course, you also want to make sure you have all your baby's favourite snacks on hand. Dunnes Stores Baby Event has a great range of snacks at reduced prices, including:
Aptamil & Cow & Gate Follow on Milk 6x200ml Range SAVE 20% reduced from €6.99-€7.75 to €5.59 - €6.20 Dunnes Stores Raspberry & Blueberry / Apple Rice Cakes at just 79c each
Kiddylicious Wriggles / Straws / Tiddlers 12g Range 4 FOR €3 OR €1.05 - €1.15 each
Ella's Smoothie Multipacks 5x90g were €4.70 now just €4 each
Annabel Karmel 100g Pouches Range 2 FOR €2.50 - €1.39 each
Ella's First Taste Pouches 70g Range 4 FOR €4.50 - €1.25 each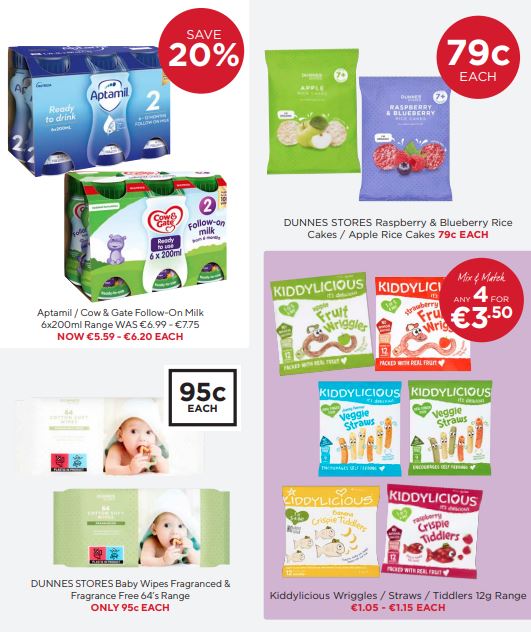 And to keep those sticky fingers and faces clean, pick up the Dunnes Stores Baby Wipes (Fragranced & Fragrance Free) at just 95c EACH.
With the right gear and snacks, travelling with your baby can be a stress-free experience. Make sure to check out the Big Baby Event at Dunnes Stores from 16th May for great savings on all the essentials.
Brought to you by
Dunnes Stores Baby Event

Discover better value and fantastic savings all under one roof at the summer baby event which runs from 16th May to 19th June 2023