Ever since my mum passed away, I have hated the lead up to my birthday. This year I decided to put all my sad, grief stricken energy into something that could make a difference. This June, I decided to walk 300km in 30 days in aid of a local charity, Mayo Roscommon Hospice. I have been doing a minimum of one 10km walk everyday since May 31 and will finish on my 39th birthday on June 29. Mayo Roscommon Hospice is a charity that is very close to my heart as it cares and supports cancer patients and their families. In the space of over two and half years my mum, my husband, sister-in-law and aunty were all diagnosed with cancer. My beautiful, energetic, young at heart mum passed away in 2017. 15 months later my husband was diagnosed. Therefore I know first hand the vital role charities like Mayo Roscommon Hospice can play at the darkest times.
This is the last picture that was taken of my mum 28 days before she passed away. She probably would not be too pleased that I published it. Mum was old school. One shot, one chance to get the perfect picture. If she knew pictures were going to be taken she would have her smart clothes on with her hair and make up done. But to me this picture is perfect. This is an image of grace, dignity, selflessness, determination, strength, bravery, faith, hope and above all undying love. My mum was all of these things until the moment she passed away. I also look at this picture and I can see that she was scared and heartbroken but never allowed us to know. My mum wanted this picture to be taken. She said to me "take one of those selfie things of us." I laughed because although my Mum was 77, she prided herself in thinking that she knew all these modern terms. Often telling me she knew them all from the morning programmes. I took the picture with my blue surgical gloved finger. Mum with her oxygen on while I was wearing the protective apron and gloves that we had to wear for weeks while with her.
Mum took a look at the picture holding the phone away from her face so she could inspect it. She said "now you will always have that." It was her indirect way of saying; It's a picture to have when she was gone. True enough this is the picture I look at over and over. At the time I did not know the emotional value this picture would have but my mum did.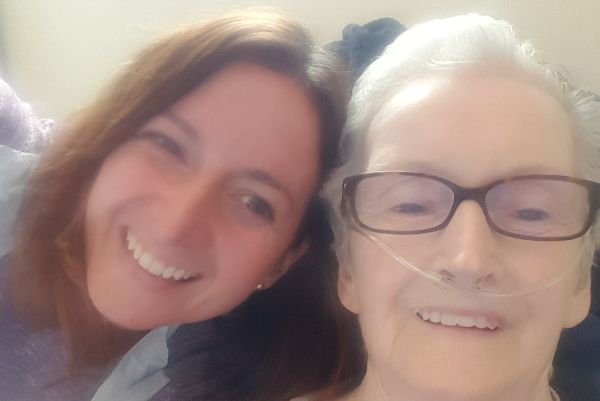 Looking at this picture as I am nursing my tired over walked feet, I can see that yes, what the doctors told us was true. She was dying. I see it now but at the time none of us could fully believe it. She was the rock in our family that never crumbled and was always the one who had our backs. She was always at home waiting for us whenever we returned. We adored her and life had no script without her. Mum was a warrior and a strong lady. I think we had a little seed of hope that she would defeat the odds and be coming home with us again. She always had that hope and never allowed any of us to give up on her. She wanted no tears at her bedside and she wanted no end talk or "the chat." Her response if she sensed you heading for it was "there is nothing for us to say. We all know what we mean to each other." It was not that we were not talkers. Our family wears our hearts on our sleeves, but it was mum who also did not want to imagine our lives without her. She needed us to help her not to give up. She wanted any extra time she could get. To the bitter end she went the whole way until everything was exhausted including herself. She was a bruised pin cushion for the number of IV lines that was put in every part of her body where a vein could be found. Young doctors, experienced consultants, would apologise to her for failed attempts of finding one. She would smile at the young apologetic student doctors and tell them " Well you need someone to practice on, keeping going I'm okay." She even made me sprinkle one student doctor with holy water. Both the doctor and I gave each other an awkward look. She knew that this doctor needed to find the vein to keep her going. I wanted to keep her going so I sprinkled the young doctor with Holy Water. The divine intervention which my mum had so much faith in worked and he found a vein! Mum's strong faith was strengthened.
I was happy that she had that faith to give her courage. Mum had been through so much up to this point. She had cancer and went through intensive chemotherapy. She got the all clear. But the victory was short-lived when a new cancer returned. She had surgery and we got seven more precious weeks with her. Her illness broke her body down but it did not break her mind. She kept going and never said stop. This is why we never got mum home after numerous attempts by palliative care and us to persuade her. But she did not want to see the finish line. Going home was crossing that line.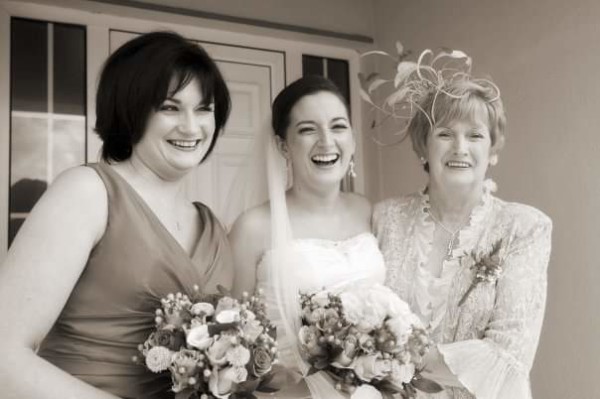 As sad as we were that we never got her home again, the comfort of 24/7 palliative care in hospital is something that gives us great comfort. This is what a hospice does. It gives comfort to the dying but also to families for many years to come. My mum had such a difficult time during her illness but her death was beautiful. I know that is a very strange thing to say but I wish everyone could have had the passing that my mum had. In the last week she was comfortable and well looked after on G ward in Mayo General. We were all there when she passed away. All of her children. I rubbed her head and talked her asleep as she did for me so many times and for my three boys. We told her we were all okay and it was time for her to go. To take Dad's hand and to tell him all about the things he missed in the last 26 years. It was time for him to have her back. We had the privilege to watch the lady who saw each of the five of us take our first breath take her last. If it had not been for palliative care and the experience of death which they had we may have missed this moment. They gently guided us to this moment giving us updates on Mum's condition. We had no idea what death looked like but they did and made sure we never were too far away from her in the last days. Watching my mum pass away was the most heartbreaking moment of my life. This life changing experience still brings me to heart wrenching tears. Yet I am filled with so much gratitude to know she died without pain and surrounded by the love she had created.
This is what Mayo Roscommon Hospice and every other hospice does for patients and families at the end of life. This is what lies behind the logo of a charity. This is why people raise money time and time again for these charities. This is why they need donations to make sure that as many people as possible get the beautiful peaceful death that they deserve. Sometimes in life we can turn our loss into a gain for worthwhile cause.
If you would like to donate to my fundraiser please click here