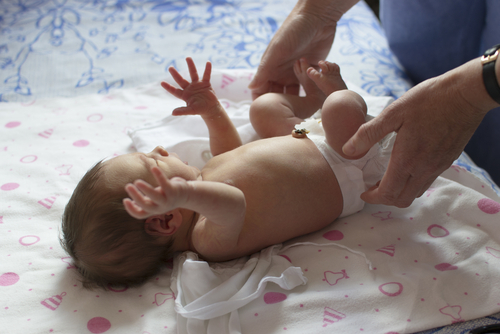 The umbilical cord supplies the baby with nutrients and oxygen during pregnancy and is clamped and cut off once the baby is born.
After it is snipped, your little one will be left with a small stump that will usually fall off about two weeks after birth. As it can become infected, it is important you take proper care of it until it does fall off.
Common colour changes to be aware of
As soon as the cord is cut it will be a bluish, white colour, but as it dries it will turn black so don't be alarmed when it starts to go darker.
Keep it clean
If it becomes dirty you can wipe it gently with a cotton bud and cool, boiled water. Don't rub it dry, instead pat it with a sheet of kitchen towel or leave it to air dry.
Don't cover it
Try to avoid covering the stump with your little one's nappy and allow it to air dry as much as possible - so encourage nappy-free time.
Don't pull it off
Never pull the stump off yourself as you can cause an infection or scarring this way. Always allow it to fall off itself.
Don't submerge it in water
Wait until it falls off before submerging your little one in water as it can become infected. In the meantime, give your baby a sponge bath.
When to call the doctor
Caring for the stump is easy enough for mums and requires little medical intervention. However, if you notice pus on or around it or any redness and swelling it is a sign that it is infected and you should take your little one to the doctor.
And finally, make sure you wash your hands before and after any contact with the stump.