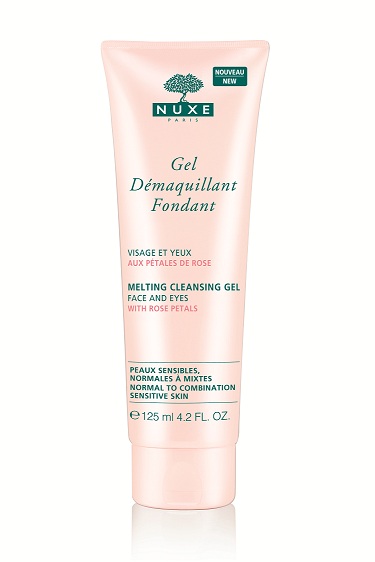 There is one beauty ritual that you really cannot do without – removing your make-up at night. Not only is it vital to keeping your skin in good condition, but it is a great way to soothe and relax your skin before going to sleep.
The new cleansing range from NUXE contains the Damascus rose petals, which is synonymous with well being and sensuality. The rose water is renowned for softening, moisturizing and toning the skin, and so this range from NUXE is a fabulous way to treat your skin to some TLC at the end of the day. This rose water also has a delicate fragrance that is fresh, floral and subtle.
The new NUXE range with Rose Petals offers a complete range of textures for your skin care routine.
As part of their Daily Skin Care Cleansing & Make Up Removal range there is:
Comforting Cleansing Milk + Gentle Toning Lotion – This is for women who are loyal to the step by step make up removal ritual which doesn't require water. This can be used on sensitive and normal to dry skin. Apply the Comforting Cleansing Milk with the fingertips massaging gently with light circular movements over the face and neck. Rinse off with NUXE Gentle Toning Lotion. We recommend you leave your Toning Lotion in the fridge for a fresh effect.
Micellar Cleansing Water – This is a great one for busy mums who want rapid, one step make-up removal. This cleansing water can be used on sensitive skin. Tap gently on the puffy eyes contour with compresses soaked in Micellar Cleansing Water.
Micellar Foam Cleanser or the new Melting Cleansing Gel – Ideal for woman who prefer cleansing with water and very light textures. This product is for sensitive and normal to combination skin. Mix in Micellar Foam Cleanser in your hands with a touch of NUXE Gentle Exfoliating Gel to cleanse and exfoliate at the same time.
Additional skin care actions:
Gentle Exfoliating Gel and Clarifying Cream-Mask are products for women looking for clean, clear skin. The exfoliating gel is a gentle scrub with an unusual texture that is ideal for sensitive skin. The cream-mask has one purpose – softness. Its clay, cream texture clarifies sensitive skin types. For deep down cleansing, put your face over a bowl of lukewarm water for 1-2 minutes to dilate the pores. Then apply Gentle Exfoliating Gel over the face and leave on for a few minutes before smoothing out the complexion with light circular movements. For an overall skin cleansing, use Gentle Exfoliating Gel during a hot bath and benefit from the effects of hot steam on your skin.
To make it even more effective, massage the mask, smoothing it out and gently pressing on the skin. To give your skin an added sparkle and a rosy complexion, apply a thin layer of the mask over the face, leave it on for 5 minutes and then rinse off with fresh water.
Products range from €14.90 to €19.40.