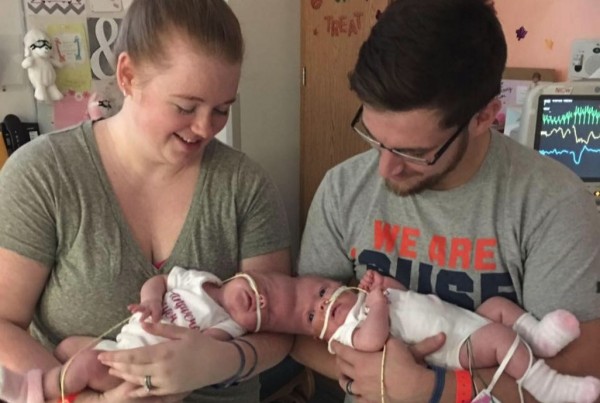 We are sending lots of love and happy thoughts to US couple Heather and Riley Delaney this week, following some highly-anticipated and wonderful news for their family: their daughters, born conjoined at the head, have been successfully separated.
The news was confirmed in a statement released by the Children's Hospital of Philadelphia, days after 10-month-old Abby and Erin underwent the procedure.
Heather was just 11 weeks pregnant when she and husband Riley were told that their babies were conjoined. The North Carolina native was sent to a facility in Pennsylvania shortly after, to begin prenatal treatment.
The twins were born via C-section on July 24, 10 weeks premature and weighing just two pounds. A plan was then launched for their safe separation.
As you can imagine, the procedure was incredibly invasive and detailed. Headed by paediatric neurosurgeon Alan R Cohen, a team of 30 worked to separate Abby and Erin.
According to the Washington Post, the team worked together to separate the girls' shared blood vessels and the membrane surrounding their brains. They then separated another major part of the brain, the sagittal sinus, before splitting up into two teams, to finish reconstructive surgery independently on each girl.
While the twins will most likely require further surgeries, this is a momentous success for the Delaney family.
In a statement released via the hospital, proud mum Heather said: "When we go home, it's going to be a big party. Welcome home, baby shower, first birthday."
The Delaneys have been sharing insights into the girls' journey over on the 'Delaney Twins' Facebook page. The page has been inundated with messages of support, love and well wishes over the past number of weeks.
They also regularly share updates from their blog, and Heather's account of seeing her girls separate for the first time will really tug at your heartstrings.
"At that moment, I stood in the middle of the room in between two beds and realised what had happened. We had two girls. Two separate girls, independent of each other. They were on their own. They were fighting on their own," she wrote.
"I realised that I was now going to have to have to split myself between two children. Before, I could stand in one spot and read them both a story. I could change Erin's diaper while chatting with Abby. I realised I couldn't do that anymore. I couldn't kiss them at the same time, and it blew my mind.
"God apparently has incredible plans for these little girls, since he got them through so much. They are a real-life miracle, and I am so blessed to be their mum."
We are so thrilled for the family, and we're wishing Abby and Erin all the best with the journey to recovery.