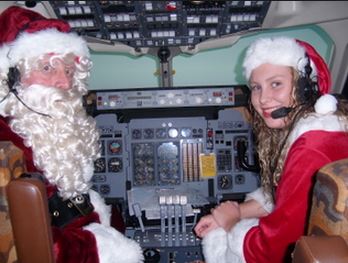 If your little one is a fan of aeroplanes, why not take them along to the Atlantic AirVenture where they will get a chance to visit Santa in his flight deck at the aero grotto. Mrs Santa will also be there to take your family pictures.
Older kids, not only will get to visit the man in red, but will also have the chance to take off from Lapland on a snowy Christmas flight to find Santa's runway on a 20 minute flight simulator.
Why not give the aeroplane fanatic in your family an unforgettable special treat and book them into the Boeing 737 NG simulator where they will get the opportunity to get behind the controls of a Boeing 737 for a 15 mile approach and landing into Lapland.
Make sure all your children bring along their letters as Santa's helpers will be aboard to stow them away for express delivery back to North Pole.
Dates: 14th, 15th, 21st, 22nd December 2013 from 1pm – 4pm
Location: Atlantic AirVenture Aviation Museum, Co. Clare