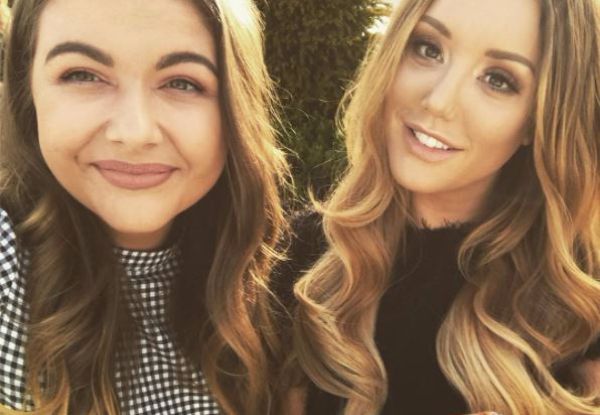 When you get the opportunity to interview someone absolutely hilarious (and #famous), you grab it by the ladyballs.
So naturally, having a chat with the ever-hilarious (and sometimes outrageous) Charlotte Crosby was always going to be good.
We headed to the launch of the Geordie's new makeup collection, and were greeted with big hugs from the beautiful reality star.
The setting was actually pretty darn romantic - on a roof top in the city, the sun was setting and drinks were flowing (of course).
Rather than doing run-of-the-mill, boring questions, myself and my gorgeous work wife decided to go for a little quickfire round - featuring some well known faces.
"Describe Ireland in three words" was our first question.
"Guinness, green and lucky," were Char's answers - and we can't argue to be honest.
Moving on, we learned that if Charlotte could be any animal, she'd be a giraffe. This actually makes a lot of sense, because she's WAY taller than you'd expect.
In terms of super powers, the Char admitted that she'd love the ability to stop time (with a friend, of course) and just go about her business.
Big yes from us on that one.
Then we moved onto the good sh*t - the game of 'snog, marry, avoid.'
Now, when we told Charlotte about the game, she reminded us that she's very much in love with her boyfriend Stephen, so she replaced 'snog, marry, avoid' with 'avoid, bitch about and go to Nandos with'.
First up: Bono, Louis Walsh and Ryan Tubs.
"I'd avoid Bono, sorry. I'd bitch about Louis because he was mean to us at X Factor one year, and I'd go on a mate date to Nando with Ryan."
Could not agree more.
Then we went political, offering up Bertie Ahern, Brian Cowen and Enda Kenny as options - and we cried laughing at her response.
"I'd avoid Brian, because his head is SO big it wouldn't fit through my door. I'd bitch about Enda because he just looks sly, and I'd go to Nandos with Bertie, we could get pissed together."
She pretty much hit the nail on the head there.