While the makeup look du jour may be all about a glittering cut-crease and killer contour, there is a subset of beauty lovers who lust after the 'less is more' approach when it comes to skincare.
Following decades of heavy base, a counterculture of skincare puritans are craving a departure from the usual opaque foundation finish.
It's the makeup of choice of models and mum-bloggers - a glowy, sheer skin look with enough mattification to avoid shininess, with a slick of mascara and lightly waved locks.
The look doesn't mask elements that were once perceived as flaws, be that freckles, wrinkles or beauty marks, but instead celebrates them by allowing them to peek through a sheer but supportive veil of light coverage.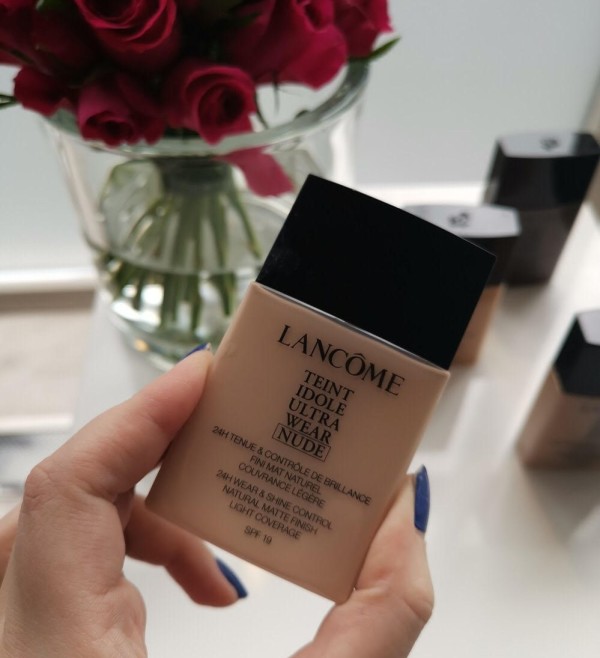 I am definitely one of those people who covets barely there makeup - I would love nothing more than to be able to add a whisper of foundation, a suggestion of a lined lip and a dewy highlight and be on my way. However, as a card-carrying member of the adult acne club, with new wrinkles forming daily, sheer foundation isn't always my friend.
When I heard that Lancôme was launching a new edition of their beloved 24h wear Teinte Idole Ultra Wear Foundation in a lighter coverage option, I was intrigued. The original Teint Idole is known for it's long lasting coverage and matte finish, and the launch of the sister base seemed like it could be the answer to my sheer-skin dreams.
The Teinte Idole Ultra Wear Nude was launched last week in the Intercontinental's Ice Bar, and I went along with a flurry of other Lancôme beauty fans to learn all about it. I had my shade matched by Lancôme's Training and Event's Executive Lorraine Byrne and got to chat about all the foundation had to offer - including a promise of 24 hour wear but in a light 'your skin but better' demi-matte finish.
I left with my 40ml bottle (most foundations only provide 30mls of product) in my shade 021 Beige Jasmin - which was just one of a diverse 40 shades.
When a foundation is described as 'skin-like,' it's impossible to maintain the integrity of that term if it doesn't cater to a wide range of skin colours. The Nude foundation has a huge variety of shades and undertones, from the palest alabaster to the richest obsidian. Many foundations have come and gone over the past 12 months, their launches cold-shouldered over a 'diverse' shade range that in actually is just 15 shades of beige, and fake-tan wearing beige. Lancôme is clearly not going to be one of them.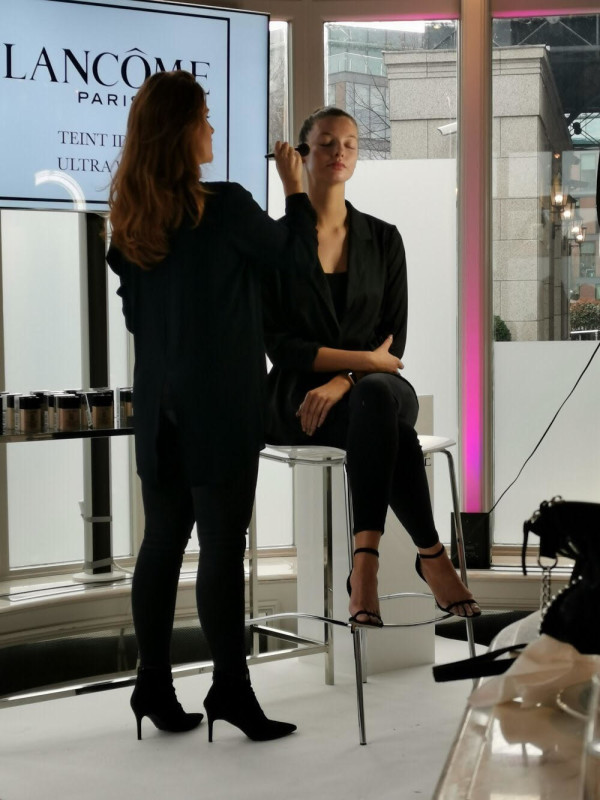 My lifestyle involves working full days, then trying to mange the rest of my life in the evenings- and by the time I wash my makeup off at night, it's usually barely remaining and shiny at best, so the 24 hour wear of the TIUWN was a big selling point.
The following morning, I shelved my usual bottle of foundation for the week to take the Teinte Idole Ultra Wear Nude for a test drive. I opted to use it as an addition to my usual makeup routine rather than letting it stand alone to start.
First impressions: I was definitely expecting it to be more sheer than it was. With one serving I was able to lightly veil my skin without it looking like I had foundation sitting on my skin.
The product blended seamlessly into my skin, and lightly filtered my face while allowing my freckles and moles to remain visible. I was concerned about the small constellation of acne that had broken out on my cheek earlier that week, but the foundation covered the redness without clinging to dry patches or the uneven texture of that area. I added a hint of my high coverage concealer to spot-conceal the most noticeable blemish, and to hide my very purple under-eye circles, and was on my way.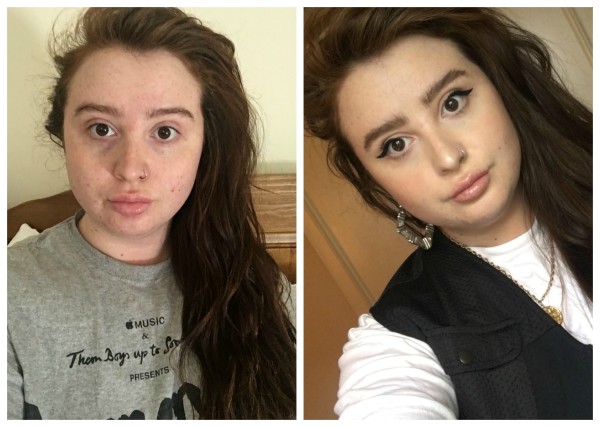 Left: No makeup | Right: Foundation, concealer and no powder
During the launch of the foundation, it was explained that due to the TIUWN's matte finish, powder was not necessary. In fact, the ladies at Lancôme described how the foundation was ideal for a person on the go and could even be worn to the gym without fear of excessive shininess - so I eschewed my usual layer of translucent powder.
I'm far from a gym goer, but that day I had to go to work and then head out for the evening without an opportunity to top up my makeup. I could have brought the foundation along with me (Nude comes in a handy, travel-friendly hard plastic bottle rather than traditional glass) but I wanted to give it a proper trial for its first wear.
I felt exceptionally self-conscious knowing I didn't have powder on - I love a glowy look but for me that often tips over into a high-shine situation. Despite my regular checks in the mirror and the screen of my laptop, I was shine free but still luminous - the only shine showing was my intentionally placed highlighter. Arriving home that evening after testing the foundation for 18 hours (it was a 6am start kind of work day) it was magically, inconceivably still on.
Left: Without concealer and under florescent lighting | Right: With concealer in natural lighting
Throughout the week, I trialled the foundation with and without concealer, with and without powder, and with and without primer. My perfect concoction turned out to be primer, one squeeze of the TIUWN, and no powder - the perfect quick office look.
The only area of my face that needed assistance in the coverage department was under my eyes - I have notoriously bad circles under there and the most heavy duty of specialised concealers can barely hide them so I wasn't anticipating that a light, illuminating foundation would be able to and frankly, it's not in the TIUWN job description.
Of course, makeup looks different in various lighting - under the fluorescents of the office, Nude maintains my skin's tone without allowing the lights to wash me out, while in direct sunlight, the glowing-from-within look comes alive without looking sweaty or shiny.
As for the foundation I shelved for a week to trial the Teinte Idole Ultra Wear Nude? It's still there - The Nude is allowing me to live my coveted 'your skin but better' dreams while maintaining the comfort blanket of buildable coverage my 'imperfect' skin needs.
Teinte Idole Ultra Wear Nude by Lancôme launches tomorrow, February 13th, from Lancôme retailers for €40.