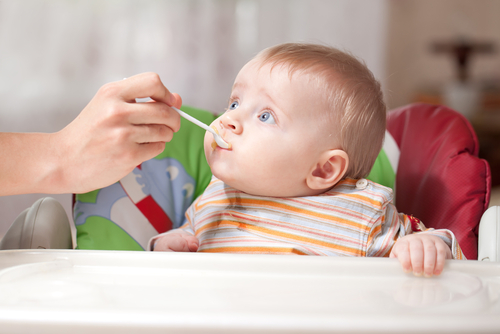 Whether it is due to work commitments, timing, or personal issues you may have decided to wean your child off your breast.
To make the process a lot easier on yourself and baby, there are a number of things you should consider:
When not to wean
You should avoid starting to wean if your little one is sick, run down or
teething
. Not only are they more irritable during this period anyway, they are less likely to cause a fuss if they are at full health.
Don't just stop
If you have decided to stop breastfeeding, don't just suddenly stop one day. It needs to be a smooth transition, not just for baby who needs time to adjust, but for you as your breasts will become enlarged and sore.
Why you should wean
At six months old, your little one will have new nutritional needs and will need other food to meet their requirements. It is also important your baby learns to chew and is introduced to various textures.
Is your baby ready?
To tell if your baby is ready to be weaned there are a number of signs to look out for. These include interest in food, not being satisfied by the end of a feed or being cranky after feeding.
Starting off
Once you have made the decision to wean you will need to start introducing solid foods. Start slowly by giving solid food two or three times a day. To do this, give them one full breastfeed and then give them food. Once they start eating more you can cut down one breastfeed.
Use alternative ways of comforting
If your little one is really struggling with the weaning process, they might actually be missing the comfort they got from being at the breast. To counteract this you will need to use alternative methods of comforting. Give them plenty of cuddles, rub their back and hold them close.
Let someone else feed
It can be confusing for your youngster if one minute you are breastfeeding and then suddenly they have to feed from a bottle. To stop this, try to get other people to feed them until they are comfortable with it.