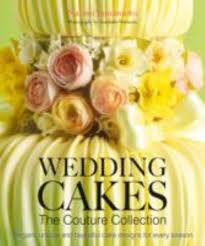 Let's face it, weddings are expensive and getting your dream cake can set you back far more than you ever bargained for. However if you're lucky enough to know someone who is a dab hand with a whisk and can decorate a cake like the best of them then we've got something that's sure to tickle your tastebuds.
Wedding Cakes: The Couture Collection by Naomi Yamamoto is a uniquely elegant book that takes you on a step by step journey through how to bake, ice and decorate your dream wedding cake. The cakes found in this book are stunning and it's hard to imagine ever recreating them yet the easy to follow instructions cover everything from how to bake the perfect cake, whether it's a traditional fruit cake or a chocolate sponge, how to make delicious fillings and how to cover cakes with marzipan and sugarpaste.
There is a wonderful range of cakes within this book from elegant white floral cakes to cakes that are bursting with colour so whether you're hoping for a traditional wedding cake or looking to match a cake with your own unique style and personality- you will definitely find something to make your special day just that little bit more special.
Wedding Cakes:The Couture Collection by Naomi Yamamoto, B. Dutton Publishing, £35.00