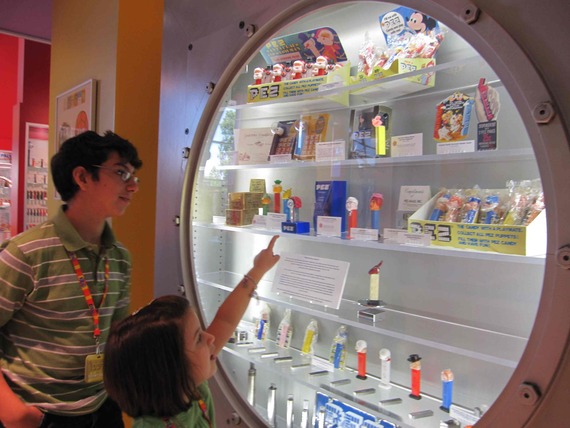 If you want to experience something truly different on your family holiday to America, these weird and wonderful museums, to add some offbeat fun to your trip.
Burlingame Museum of Pez Memorabilia, California
Gary Doss has spent more than 20 years collecting these sweet dispensers and now displays every PEZ ever made - over 900. Rare PEZ include the donkey-head model made for President Kennedy, the "Make Face" akin to Mr. Potato Head with interchangeable parts, and a Mary Poppins. The gift shop sells all things PEZ, both new and vintage models, and the same building houses the Banned Toy and Classic Toy Museum.
The Hobo Museum, Iowa
Housed in the former Chief Theatre, the Hobo Museum celebrates the vagabond lifestyle. It's full of drifter memorabilia from the likes of Frisco Jack, Connecticut Slim, and Hard Rock Kid. Hobo crafts, art, photographs, and documentaries depicting the unorthodox way of life are also on display. It's brought to you by the Hobo Foundation, which hosts an annual convention in town.
National Museum of Funeral History, Houston
Funeral director Robert Waltrip realised a lifelong dream in 1992 when he opened this museum dedicated to the care of the deceased. Must-sees include the Vatican-approved pope funeral trappings, the largest collection of Ghanaian fantasy caskets outside of Africa (in crab, cow, and car shapes), funeral memorabilia from celebrities including Michael Jackson, Elvis, and Marilyn Monroe, and 19th-century mourning clothes.
Devil's Rope Barbed Wire Museum, Texas
At Devil's Rope, visitors are welcomed in to learn about one of the most useful inventions for the pioneering American landowner. Housed in a former bra factory just off historic Route 66, the museum's exhibits include patent information (there are more than 450 on the books), collections from private wire collectors, and warfare wire.
Leila's Hair Museum, Missouri
Don't expect to find Mesopotamian curling irons or Cher's wigs. What you will see is real hair - and lots of it - fashioned into art. Leila Cohoon, a retired hairdresser, has lovingly collected 600 hair wreaths and more than 2,000 pieces of human hair jewellery dating back to the 18th century. Notable personalities including Michael Jackson, Queen Victoria, and four presidents have also made contributions.
Bigfoot Discovery Museum, California
Museum founder Mike Riggs has collected hominid data for more than 60 years. His findings include video footage, audiotapes, and a local map with pushpins marking over 150 sightings. Riggs firmly believes Bigfoot is alive, well, and a resident of the Santa Cruz area. And after a stop here, you just might, too.
SPAM Museum, Austin, Minnesota
This museum is described on its website as M.O.M.A.: Museum of Meat-Themed Awesomeness. Did you know that more than 100 million pounds of Spam were shipped oversees to American troops in World War II? Or that a girl band called the Hormel Girls toured the country to promote the product? These are just a few of the things you'll learn about while in Austin, a.k.a. Spamtown (Hormel is headquartered here).
Apothecary Museum, Virginia
With items like dragon's breath and unicorn root, this 18th century pharmacy might be mistaken for a Harry Potter movie set. Beyond the remarkable anthology of herbal botanicals, handblown-glass jars, and medical equipment, the archival journals at the Stabler-Leadbeater Apothecary Shop give a glimpse into both the bizarre aspects of colonial-era medicine. The shop shuttered in 1933 after being operated by a Quaker family for generations.
Image via Pinterest