When you become a mother for the first time your life changes in ways you never really expected, but none quite like going on holiday.
Admittedly, it is easier for some mums than it is for others, but, for most of us, going away for a week sometimes doesn't seem worth it, especially if you are flying!
Here's what flying with a toddler is really like:
1. You'll end up running late
No matter how early you leave the house you are sure to end up running to the gate at final call.
2. You won't be able to pack light
Your carry-on bag will consist of a change of clothes for baby and lots and lots of toys.
3. Duty-free shopping will be no more
The negatives of dragging your tot around the duty-free shops far outweigh the ten minutes of pleasure you'll get from picking up a bargain.
4. They won't sleep
No matter how much you've tried to schedule your flight around their nap time (no, we don't know anyone who does this...) they won't sleep.
5. You'll do more laps of the aisles than you'll care to admit
Thought getting your toddler to sit quietly for ten minutes at the dinner table was hard? Well, wait until you're on a cramped plane for four hours.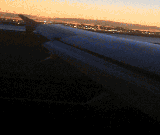 6. You'll be feeling a little sensitive
One side look from a fellow passenger will leave you in tears as you try to stop your youngster crying for the entire journey.
7. The toys will only entertain for five minutes
Your toddler doesn't care that you've spent the entire weekend ensuring you have enough toys and books to keep them happy for the flight – they'll just want to get out of their seat.
8. You won't get to watch two movies
Remember the days when you could spend the entire trip just watching movies and sleeping? Well, they are long gone! Now you'll be lucky if you get to sit down, and if you do get to watch a movie it'll be a kid's one!
9. Turbulence will be a whole new experience
For those who don't like flying, turbulence can be an absolute nightmare – try dealing with it with a toddler who refuses to put their seat belt on.
10. You won't be able to eat in comfort
It's squishy enough as it is without having a little person sitting on your lap.