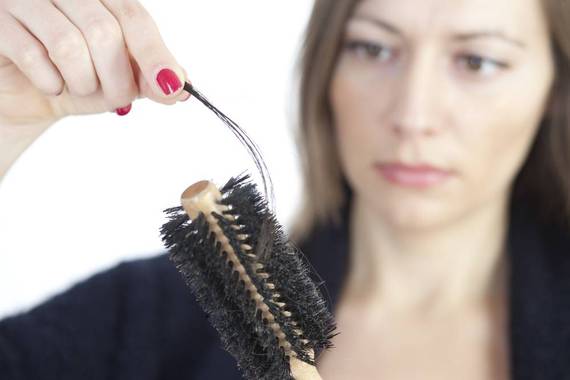 First of all, postpartum hair loss is perfectly normal, so don't panic.
There are few things more horrifying to a woman than seeing what seems like half her hair sitting in the shower drain, especially when you combine that with the sleepless nights and hormonal upheaval that comes with having a newborn.
We can only handle so much at once.
While there are
postpartum hair loss tips
to disguise thinning hair, there's nothing you can do to actually stop it - it needs to run its course.
The basic reason for postpartum hair loss is that you shed less hair while pregnant, due to increased oestrogen levels. Once your post-birth body begins to return to normal, all the hair that should have fallen out during your pregnancy, does fall out.
That's also the reason many women experience thicker, fuller hair while they're pregnant.
Here's the science bit:
The average person loses approximately 100 hairs a day.
At any given time, roughly90% of your hair is in a 'growth phase,' while the remainder is in a 'rest phase'.
The rest phase is the period of time before the hair's natural life cycle has come to an end and it's due to fall out.
Increased levels of oestrogen during pregnancy cause the rest phase to last longer than it should, therefore preventing the normal amount of hair from falling out and new hair growing.
Once oestrogen levels begin to normalise after giving birth, the hair returns to its natural cycle.
This results in all the hair that should have fallen out during the previous months, falling out now, along with the hair 'scheduled' to fall out at that time. Basically, a lot of hair.
So you have the facts, but we know you'll still fret and worry each time you look at your hairbrush after pulling it through your hair. What if too much falls out? What if it doesn't stop? What if you go bald before it does stop?
We thought the exact same things ourselves, but in the end, our hair loss went back to its normal rate and we forgot all about the panic of those few months. So just keep reminding yourself of that.
What can I do?
Hair typically returns to its pre-pregnancy thickness between six and 12 months after you give birth, so be prepared for postpartum hair loss to last for a while.
Those with certain hair types (long, dark, fine) may feel the extra hair loss is too noticeable and cut it short to make it look thicker.
Even if you don't want to cut your hair short, we still recommend you take a trip to your regular hairdresser who can assess your hair and style it in a way to make it look fuller.
If you're the kind of person who finds it hard to just let nature take its course, you could speak to your GP about a hair and nail supplement. An active treatment plan may make you feel calmer and less stressed about your temporarily thinning locks.