Do you ever get tired of thinking about dinner options - trying to figure out how to get as much goodness into your family as possible, while also being creative and making sure YOU don't stuff your face with 5 billion carbs.
That's why we have come up with a week of inspirational dishes that are not only well-balanced but easy to make, handy to freeze and will banish those refrains of 'euwww' we all dread when we try to 'mix-it-up'.
1. Monday Meatballs with Spaghetti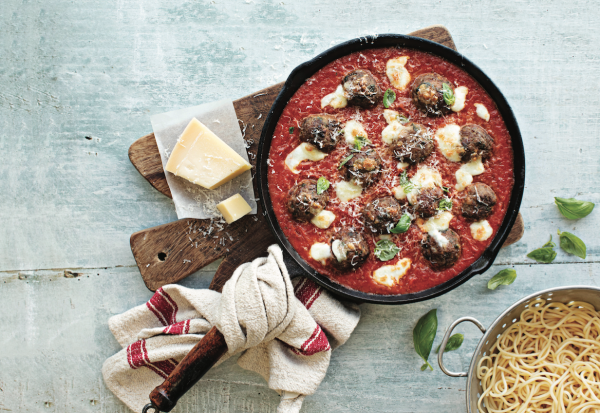 This is an oldie but a goodie.
What you'll need:
375g of fresh Irish extra lean mince beef
4 cream crackers, crushed
1 tbsp chopped fresh flat-leaf parsley
1 egg
2 tbsp olive oil
1 onion
1 celery stick
1 carrot
1 courgette
1 red pepper
2 x 400 tins chopped tomatoes
1 ball of mozzarella
225g spaghetti
Freshly grated parmesan
What you'll do:
Mis the mince with the crushed cream crackers, parsley, and egg. Season and roll into about 12 balls. Next, heat the oil and sauté the veggies for about 15 minutes. Add the tomatoes and simmer for another 10 minutes or so. Then you can brown the meatballs in a clean pan until they are almost cooked through. Pour over the sauce and simmer for 10 minutes. Finally, scatter over the mozzarella in chunks and flash under the grill until bubbling. Cook the spaghetti and serve to your waiting family. Mmmmmm!
2. Tuesday Chicken Fajitas with cherry tomato salsa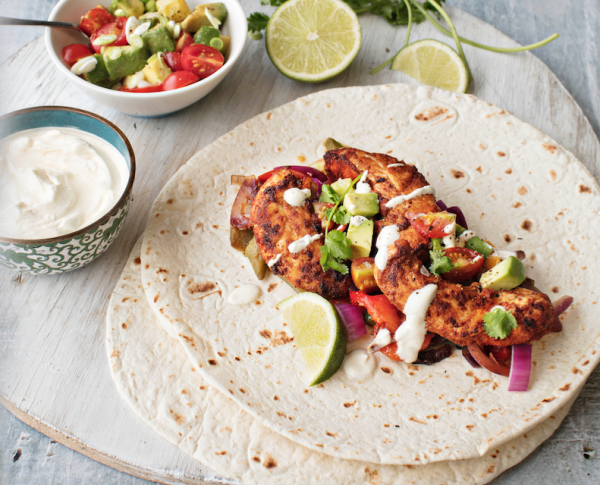 There is nothing more fun than an interactive dinner. The children love to doll up their own plate, personalising them with the various dips and side dishes that come with this meal.
What you'll need:
2 tsp paprika
1 tsp ground cumin
1 tsp ground coriander
2 tbsp olive oil
450g packet fresh mini chicken filet
1 packet fresh veggie fajita kit
1 packet plain tortilla wrap
1 carton soured cream
For the Salsa:
100g cherry tomatoes, quartered
1 ripe avocado stoned and diced
2 scallions, finely chopped
Lime wedges to garnish
What you'll do:
Mix the paprika, cumin, and coriander in a bowl and toss with the mini chicken. Make sure they are evenly coated. Pan-fry the chicken for about 4 minutes. Add the veggies and cook for 2-3 minutes, sprinkling over a tablespoon of water. To make the salsa, mix the ingredients and season. Heat the wraps and fill with the chicken fajita mixture and top with sour cream, cherry tomato, and avocado salsa.
3. Wednesday Greek Pitta Beef Burgers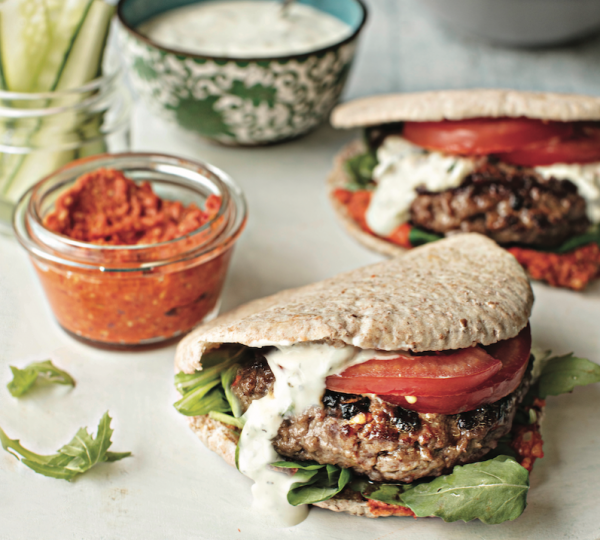 What you'll need:
680g fresh Irish ultimate beef burgers
2 wholemeal pitta breads
1 tub roasted red pepper dip
1 packet spinach, watercress, and rocket salad
2 ripe tomatoes
1 tub tzatziki dip
Half a cucumber cut into batons
What you'll do:
Heat a griddle pan and cook the burgers for 4-5 minutes on each side until tender. Toast the pitta breads, cut each in half and open up to make a little pocket. Add a dollop of roasted red pepper dip and fill each with the tomatoes and drizzle over the tzatziki. Serve with the cucumber for crunch.
4. Thursday Lemon Salmon with Stir-fried veggie noodles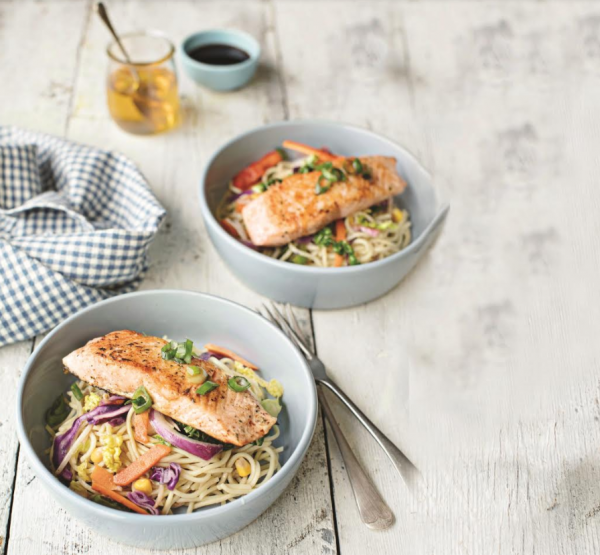 Who doesn't love a good noodle? My kids have great fun sucking up the noodles or making various designs on their plate. I don't mind as long as I'm sneaking in those vegetables. I am a big noodle fan myself so this meal is one of my favourites - especially because it also includes fish.
What you'll need:
2 tbsp sunflower oil
220g lemon and pepper salmon darnes
1 bunch scallions
1 packet of fresh veggies stir-fry
1 packet of cooked egg noodles
1 tbsp soy sauce
2 tsp honey
What you'll do:
Heat a large non-stick frying pan. Add half of the oil and cook the salmon darnes for 8-10 minutes, turning once until the salmon is moist and the flesh flakes easily. Meanwhile, heat the rest of the oil in a wok and stir-fry the white parts of the scallion, for 1 minute, then add the noodles and continue to cook until heated through. Drizzle over the soy sauce and honey, tossing to coat and arrange on plates. Garnish with the green parts of the scallions.
5. Friday Pork escalopes with new potatoes and peas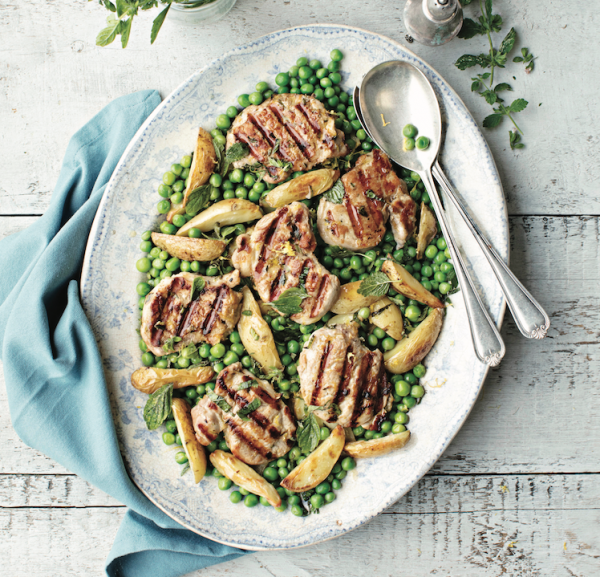 Sharing plates are great fun and make for a handier clean-up!
What you'll need:
550g packet fresh Irish pork medallions
finely grated zest of 1 lemon
1 garlic clove
1 tsp fresh mixed herbs
3 tbsp oilve oil
450g baby new potatoes
100g frozen peas
1 tsp freshly chopped mint
What you'll do:
Bash the pork medallions with a rolling pin to flatten (the kids will love helping!) Pop them into a shallow dish with some lemon zest and garlic and mixed herbs. Season and allow to marinate for 15 minutes. Preheat the oven to about 200 degrees celsius. Cut the baby new potatoes into quarters and drizzle over the rest of the oil. Roast for around 30 minutes until tender. Next, heat a griddle pan and cook the pork for a few minutes each side. Separately, cook the peas and toss them in with the potatoes, the lemon rind and the mint. Finally, arrange on the plate with the chargrilled pork escalopes and garnish with extra mint to serve.
There you have your five key meals for the week.
We usually have a sneaky pizza or a Saturday night, and everybody knows Sundays are for in-laws to cook you a roast (joking, not joking).