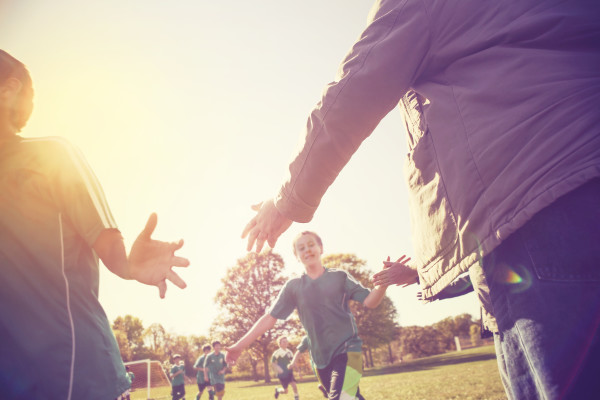 Yay! If your child has shown an interest in a club or sport, that's fantastic.
It may give you a bit of time to yourself (presuming you don't need to stay on the sidelines) and of course, give them an outlet to express their interest, sporting or artistic ability. But beware, it's not as easy as just picking the club that is nearest or has hours that work for you around your schedule. In fact, choosing which club your child should belong to may even take as much investment of your time as choosing what school is best for their education.
That may sound a bit much, but after all, you are choosing the club (and the people within it) that could have a long-term relationship with your child. The club they start in, such as nursery level GAA, could be the club they stay with for the rest of their childhood or beyond. Make sure that you are involved in the choice with your child. First and foremost do your research and ask lots of questions.
If they have shown an interest in dancing, give them a variety of classes to choose from. Maybe hip-hop, tap dancing, dance and drama and ballet. Don't push your child to do ballet because that's what you did as a child. Keep your preference hidden and let the child lead the way in what they would like to do. Where possible ask for a free trial class or pay as you go for the first few weeks until your child has shown a real interest and commitment. If it doesn't feel right, try another club.
Hold off on buying any special equipment or uniform. I have found from bitter experience paying for a term of classes upfront or buying expensive gear early on can often be a waste of money and lead to resentment on both sides. This is especially true when the next activity requires 'stuff' too and you don't want to buy it for fear of being left with more jodhpurs/hockey sticks/mouth guards/karate suits clogging up your wardrobe unused. It also doesn't really work trying to encourage other siblings to take up the sport just because you have the gear for it. I have tried this and failed miserably on more than one occasion!
Find out from other parents if they would recommend the club or if they have had a bad experience there in the past. Does the club appear to be a safe an fun environment? Can you see that the staff working there are fully qualified and appear well trained? Are the staff vetted for their roles working with children or adhere to a governing body? Or does the club appear to be run by casual staff that change on a frequent basis? Or maybe by other parents who volunteer?
Having trust in the people running the club is very important. Ultimately, you are handing them your child and the responsibilities that go with this. You wouldn't leave your child with a stranger to mind them, so why would you leave them in a club where you don't know anything about the staff?
I have found often the best way to find out about a club and how it is run is to involve yourself in the club itself. Volunteer to do parent duty if extra supervision is required, bake or man a stand at the next fundraiser. Arrive a bit early for before the official collection time and observe the interaction between the coach and the children. Like the club on Facebook or Instagram if they are active on social media. This can be a great way to find out more about the club's policies and see how the club interacts and communicates with other parents.
Some children are happy to just turn up to the club and have no further expectations. However, as your child grows older and more established in the club, you may find they enter competitions, go on trips and make their own circle of friends. As they become more involved in the club, try to grow with them in this interest. Learn some terminology. Watch YouTube videos on the sport/ club together. Encourage your child to be active and eat healthily.
Sport and involvement in clubs generally helps children much beyond physical exercise. It helps their confidence, encourages them to have fun and gives them something to aim for. Having a group of friends outside of school is healthy and assists children with different social interactions.
Don't let the hassle of finding the right club put you off. It can be a great opportunity for all if researched well and maybe even give you the chance to sit down for half an hour of uninterrupted time with a hot coffee before you have to go back and collect them!