We've teamed up with Virgin Media to give one lucky MummyPages fan the chance to win a shopping voucher worth €250!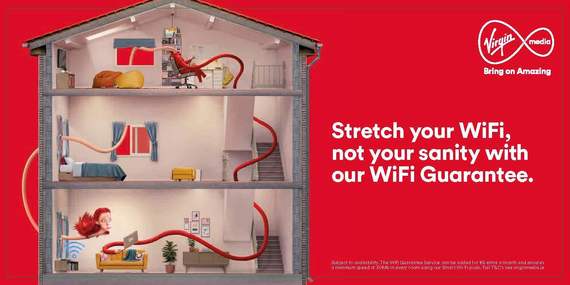 It's tricky keeping everyone happy at the one time - especially as summer arrives, and we're all at home at the one time. With working from home now the norm for many of us, and trying to juggle the chaos of toddlers wanting to watch their favourite shows and teenagers spending all of their time on social media or gaming online with their friends - having reliable broadband throughout your home has never been more important. And making sure the WiFi stretches to every nook and cranny of your home.
Thankfully, now you can stretch your WiFi, not your sanity with The Virgin Media WiFi Guarantee. This guarantee eliminates blackspots and guarantees minimum speeds in every room of your home. Meaning you keep everyone happy and get to work without interruptions from dropping Wi-Fi.
Virgin Media's Smart WiFi Pods create a WiFi bubble to tackle the blackspots where your broadband may cut out or slow you down by using their next level WiFi mesh technology. These Smart WiFi Pods allow you and your family to browse, stream and game at guaranteed minimum speed levels wherever you want to in your home.
With this guarantee, you won't need to worry about looking unprofessional when working from home if you can't log-in on time or are late to an important meeting with your manager due to your WiFi lagging in your working-from-home space. You can also make sure you get to enjoy family time with your little ones, watching your favourite film on Netflix or Disney+, surrounded by all the good snacks no matter what room you are in.
To celebrate The WiFi Guarantee, Virgin Media are giving one lucky MummyPages fan the chance to win a €250 One4all voucher. To be in with a chance to win, just fill in your details below.
This competition is now closed. Winner will be announced shortly.