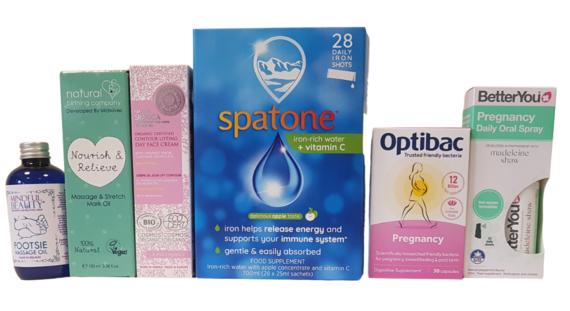 We are delighted to be partnering with Spatone to offer one lucky MummyPages fan the chance to win a fabulous pregnancy pamper hamper! This hamper is worth over €100 and includes a 3 month supply of Spatone Apple. Support your baby's growth and development with Spatone Iron-Rich Water, suitable during pregnancy and while you're breastfeeding. Iron is a vital nutrient to support your baby's growth and development, and is an important nutrient for normal cognitive (brain) development. This hamper also includes supplements suitable during pregnancy from brands such as Optibac and Better You, massage oils from The Natural Birthing Company & Mindful Beauty as well as a contour-lifting face cream from Natura Siberica.
Spatone® Liquid Iron is a naturally occurring iron supplement that's sourced directly from Snowdonia National Park. It is packaged into single use sachets which are ideal for use on-the-go or in the home. This wonderful product is easily absorbed and is ideal for people who might not be getting enough iron from their diets.
Spatone® is suitable during pregnancy – as pregnant women often require a higher iron intake and that means some expectant women will need to supplement this mineral if they struggle to get it from their diets. Spatone® is suitable for use during pregnancy but always check with your doctor or midwife before you start taking it.
Spatone® can be taken as they are or added to fruit juice, so it can slot right into your regular schedule.
The iron in Spatone® is highly absorbable and there is enough in a single sachet to get our dietary iron requirements. Because of this higher absorption, it means less unabsorbed iron enters into the intestinal tract which cause fewer unpleasant effect often experienced by those taking iron supplements such as constipation and stomach irritation.
To be in with a chance to win the pamper hamper, just fill in your details below.