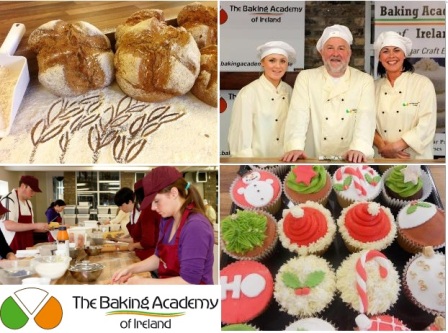 The Baking Academy of Ireland know the joy and excitement of creating wonderful sugarcraft decorations and chocolates or baking something really enjoyable and sharing it straight from the oven. Their aim is to provide the best educational experience for each and every student. They will demystify the science and technology and inspire you to create something fantastic, teaching you the craft and skills to do it successfully - every time.
The tutors are specialists in the field of baking, confectionery, chocolate and sugar craft. Each has an in-depth knowledge and understanding of the art and craft of artisan techniques. They are uniquely experienced and enthusiastic bakers, confectioners and chocolatiers who will guide and inspire both beginners and seasoned enthusiasts alike.
At the end of the class each student will take away, free of charge, everything they bake or decorate, so it is advisable to bring along some large carrier bags (not plastic as this will cause the hot bread / cake to steam up), or folding boxes. To check out a full list of the classes available at The Baking Academy of Ireland,
click here
.
To celebrate the success of The Baking Academy of Ireland, we are giving MummyPages fans the chance to win a voucher* to attend a baking course at The Baking Academy of Ireland.
To be in with a chance of winning, follow steps 1 & 2 below. Good luck x
This competition is now closed.
The winner is Mary Watchorn - congratulations Mary, we have sent you an email. Thank you to everyone who entered x
*The voucher for The Baking Academy of Ireland is for the value of €125. The voucher cannot be used twice or split between courses. You may add money to the voucher to attend a course which costs more than the value of €125.