LUNA by Lisa has launched her Holiday Collection to help you sparkle and shine this festive season. This collection of showstopping limited edition sets features the best of LUNA by Lisa's make-up and Hair Care products, as well as some breath taking new additions.
LUNA by Lisa's Lip Treats (RRP €15.00 - worth €24.00)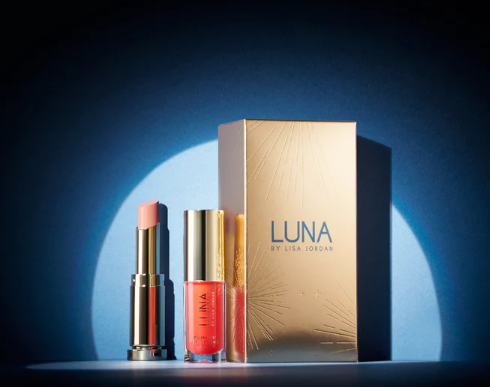 Your ultimate winter go-to duo. The limited-edition velvet touch lip balm is the perfect nourishing nude tint. A true handbag hero, this balm is a light, glossy dose of moisture while providing lips with a gentle kiss of colour. This balm provides a light tint with a single swipe or a deeper shade with buildable colour. Create lusciously smooth and hydrated lips with the comfort soothing cherry lip oil. Combining skincare ingredients to create a hybrid lip oil to moisturize & condition lips. Enriched with Shea butter & Raspberry seed oil it leaves your pout in optimum condition.
LUNA by Lisa's Luxe Lights (RRP €18.00 - worth €25.00)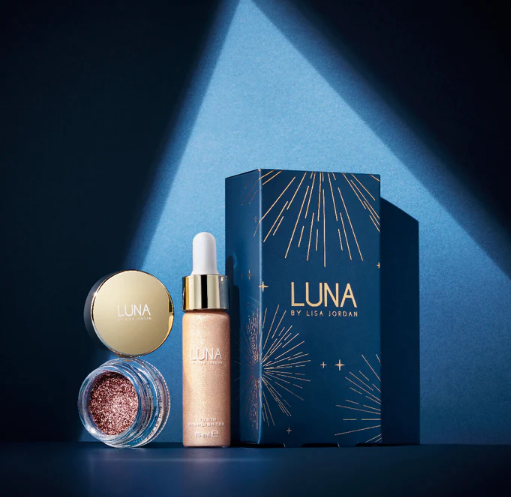 The perfect stocking filler. This sparkly eye pigment in shade Stay Golden, is a true gold to enhance that twinkle in your eye. The shimmery pigment can be applied to the lid with a finger or brush. The Liquid Highlighter in Shade Star Glaze, is the perfect product to accentuate your best features and create a healthy glow, for a multi-dimensional shimmer and radiant complexion. Provides a healthy, showstopping glow and leaves a radiant skin finish - a party season must have!
LUNA by Lisa's Pout & Go (RRP €20.00 - worth €32.00)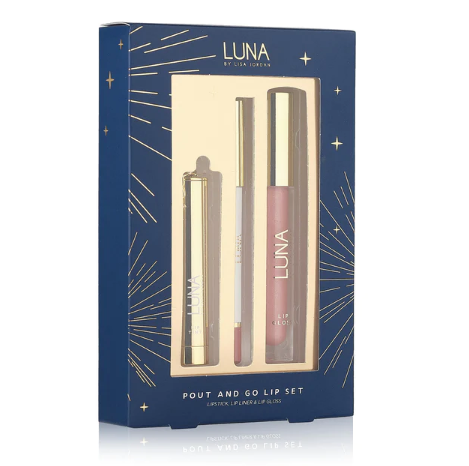 Let your lips take centre stage this Christmas, wherever you go! The ultimate lip trio includes a liner, lipgloss and a lipstick in charm holder. The most perfect nude pink shade - Love - is the best accessory you can bring with you to add drama to your lips, as well as your accessories! Deliver amplified shine and vibrant pigment with this medium coverage luxurious lipstick that effortlessly glides onto lips for a sculpted, multi-dimensional shimmer. Containing Shea Butter, Nourishing & skin conditioning Vitamin E Antioxidants, Caster seed oil and omegas. Pair with the Lip Liner in Shade Lust, to expertly define your pout. Finish your look with the Silky Lip Gloss in shade Passion. A silky gloss with conditioning extracts and hyaluronic acid to hydrate and soften your lips. Ultra-comfortable and wearable, this gloss contains sunflower seed oil to condition, Raspberry seed oil to soften, Rosehip oil to rejuvenate and Aloe Vera leaf extract to soothe & calm.
LUNA by Lisa's Airbrush Beauty (RRP €25.00 - worth €40.00)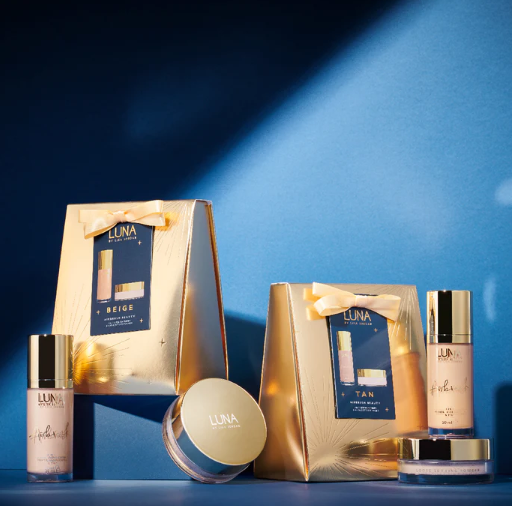 (Available in bestselling shades - Beige & Tan)
A Christmas Wish Come True… Luna's hero product, Airbrush, is now available in a limited-edition GOLD Set to celebrate the holidays! A primer, highlighter and tint, airbrush diffuses the skin and acts as a beautiful soft-focus highlighter while evening skin tone, fine lines and pores for that 'your skin but better' finish. Wear on its own, over or under make-up for a glowier, dewier you. It's your guaranteed good skin day! Pair with the limited-edition Beauty Blur Loose Setting Powder to instantly perfect your complexion. The ultra-fine milled formula adds a luxurious, weightless veil to the skin. Ideal for sweeping away shine and setting foundation without changing the colour. Dust onto the skin for sheer youthful coverage - no lines, no creases, just a perfected real-skin finish.
LUNA by Lisa's Lip Icons (RRP €35.00 - worth €81.00)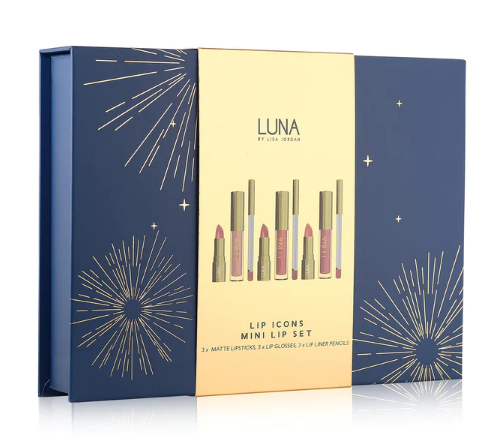 The Lip Collection - includes 3 Iconic shades of mini lipsticks with matching lip pencils and glosses. Keep your nude game strong with Prinny, Doll & Crown, all natural looking shades to flatter your complexion. Amplify your look with this luxurious, creamy formulation with an intense pigmented colour for ultimate comfort and kissable lips! Containing Vitamin E Antioxidants to condition, a Matte Finish with Intense colour. Pair with the perfect partner lip pencils (Prinny, Doll, Crown), to expertly define your pout. Finish with a wash of moisture using the lip glosses (Posey, Dainty, Queen). A silky gloss with conditioning extracts and hyaluronic acid to hydrate and soften your lips.
LUNA by Lisa's Eye Jewels (RRP €39.00 - worth €55.00)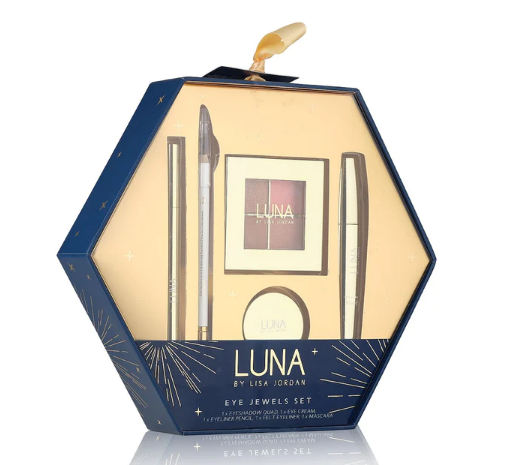 Mesmerize with those eyes this Christmas… Luna by Lisa's Eye Jewels Set is the secret to bigger, brighter looking eyes and a dreamy, soft-focus glow! Everyday Gems Eyeshadow Quad contains creamy formula shades that glide onto your lids with a vivid mix of velvety-rich textures. Line and define with eye pencil in shade Marble. Its creamy formulation glides effortlessly across lids delivering rich, consistent colour. Embellish your eyes with the Gold cream shadow pot in shade Diamond Kiss, for a lightweight, multi-dimensional shimmer. The creamy pigment glides across your eyes for an ultra-luxe feel, blending effortlessly to create a flawless look. Add depth with the Felt Liquid Eyeliner Pen. Line and intensify your eyes with this liquid eyeliner. Finish the look with Luna's Volume Mascara. Get lashes beyond belief with this volumising mascara. It coats every lash in the darkest black, delivering both fullness and flutter. Revealing lashes you never knew you had!
LUNA by Lisa's Beauty Closet (RRP €49.00 - worth €85.00)
Gift a full party look this Christmas with this ultimate face vault. Containing limited edition Duo Powder Blush in shades Moody and Passion Pink. Moody - It's a mood. It's a vibe. It's Luna's most universal shade. This nude, natural shade blush creates a soft, sheer colour to help enliven the complexion. Dapple onto your cheeks for a natural-looking flush and you'll be blushing with warmth and radiance. Passion Pink - This sweet, bold pink hue lifts the complexion and hides any tell-tale signs of tiredness. Add a pop of this blush to the apples of the cheeks for a healthy flush. If summer sunshine was a blush… Duo Cream Highlight & Cream Contour - Shooting Star & Beige Sculpt. Beige Sculpt - A cool and creamy contour that blends effortlessly into the skin. Enhance your natural dimensions to create a show-stopping definition. Use it to create a soft and subtle finish for daytime or amp up the drama after dark. Shooting Star - This intense gold highlighter is packed with pigment for an out-of-this-world glow. Designed to suit all skin types, enhance bone structure and add a youthful radiance like no other. Prep the skin with Luna's famous Strobe Primer. This lightweight formula eliminates any dull-looking skin and illuminates the complexion. The perfect first step in your beauty routine for a brighter, healthier, cared-for-skin finish. Back for another year, the coveted Eye Brightening Pen will wake up your eyes. With just a click of its button, this pen shapes, highlights and contours your base. Perfect for brightening the centre of your nose, masking under-eye circles and accentuating the cupid's bow, brow-bone and cheekbones, this multi-purpose highlighter pen helps to create the illusion of a sculpted visage by illuminating the high points of your facial contours. The Duo Ended Brush is designed for perfect application when using Luna's Cream and powder products. Set also contains Luna's Volume Mascara, Velvet Touch Lip Balm Tint in Shade Quartz and Luna's Felt Liquid Eyeliner Pen. Let it glow, let it glow, let it glow!
Luna has also launched a range of three great hair gift sets for Christmas with each one delivering a key benefit to the lucky recipient.
LUNA Hair Care Hair Repair (RRP €32.00 - worth €41.00)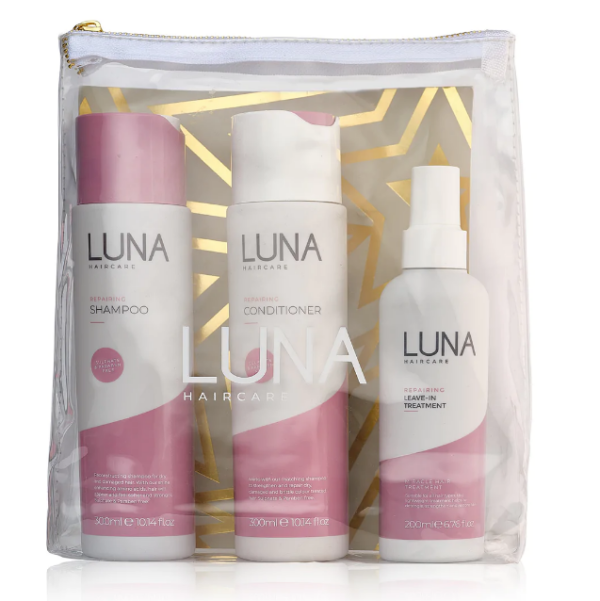 LUNA by Lisa Hair Treatment is the hero leave-in conditioner that nourishes the hair and repairs damage. Just spray two to four times on damp hair and there's no need to rinse. Just leave it to dry naturally or style as desired! With 12 BENEFITS, including UVA & UVB Protection, this product helps repair dry and damaged hair, nourishes and protects for radiant shine, delivers soft, silky, more manageable results and acts as an incredible detangler. Prep hair with Luna's Repairing Shampoo & Conditioner to nourish the hair and repair damage. With our shine enhancing amino acids, hair will appear and feel softer and stronger.
LUNA Haircare Hydrate Hair Kit (RRP €30.00 - worth €44.00)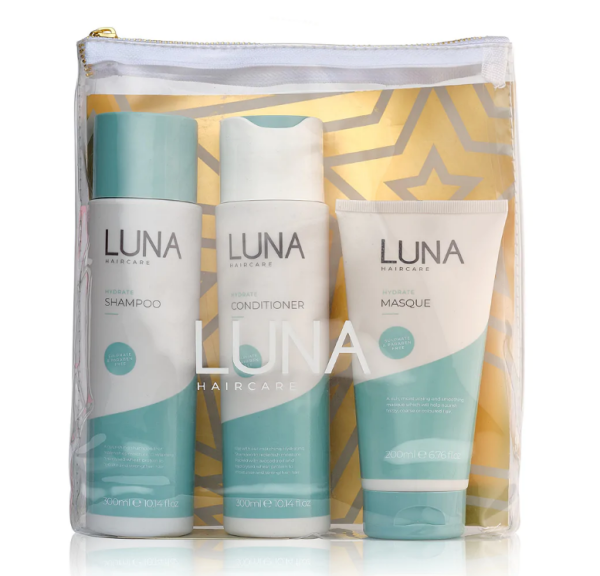 This set includes a thirst quenching, nourishing shampoo, conditioner and masque to keep your luscious locks hydrated throughout the winter season. LUNA Hydrate Shampoo replenishes moisture and protects against damage, while the LUNA Hydrate Conditioner is the perfect remedy for dry and dehydrated hair. Both packed with avocado oil and hydrolysed wheat protein, the special blend of ingredients helps to reduce static and increase hair suppleness and sheen leaving your hair feeling super silky, soft and glossy. The LUNA Hydrate Masque is a rich moisturizing and smoothing masque that should be used weekly to help nourish frizzy, coarse or coloured hair after all the Christmas festivities.
LUNA Haircare Volume Hair Collection (RRP €34.00 - worth €57.00)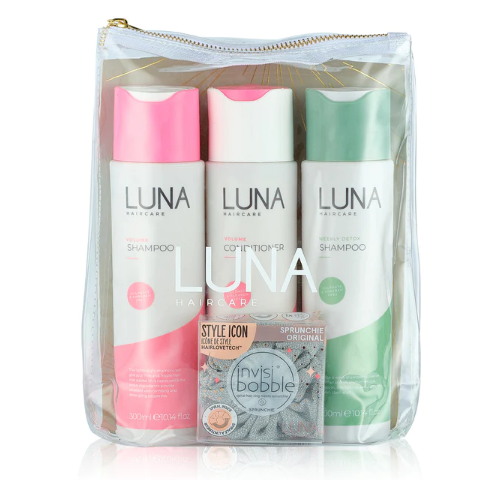 Not only does this set contain the cult Volume Shampoo, Volume Conditioner and Weekly Detox Shampoo, but you also get an exclusive Invisibobble x LUNA sprunchie - the perfect combo for festive hair. Add body, volume and life to fine and fragile hair using the Volume Shampoo and Conditioner to enhance your party hairdo. The holidays can be hectic so recharge using LUNA's Weekly Detox Shampoo to cleanse your hair of product build up, excess oil for a fresh, clean start. Lisa loves a scrunchie and designed this scrunchie exclusively with invisibobble for her LUNA Holiday Collection.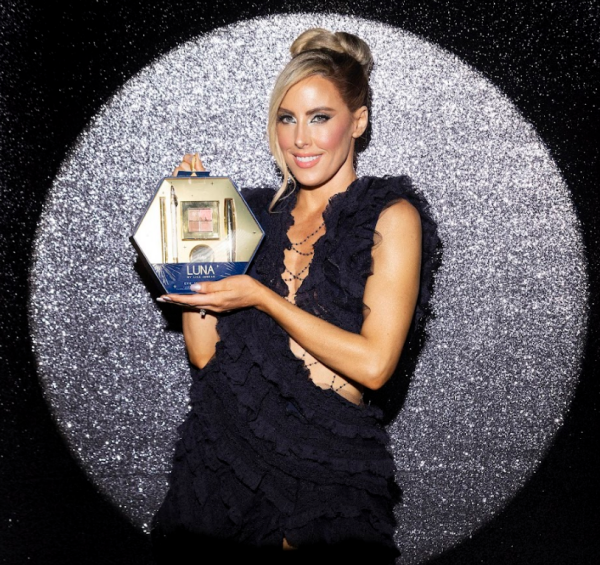 Speaking about LUNA by Lisa's Holiday collection, Lisa Jordan, said;
"I am thrilled with the amazing offerings available in this year's Holiday Collection! Featuring some of my absolute favorite LUNA products, as well as some incredible new products. We have worked so hard to bring this collection to life! It is truly a dream come true for me. I cannot wait to hear what you all think and to see the magical party season looks you create!"
LUNA by Lisa's Holiday collection is available on www.lunabylisa.ie and in pharmacies, Dunnes Stores and retailers nationwide.