A recent survey to mark the launch of the new Aveeno Baby Calming Comfort range shows a third of parents agreeing that a consistent bedtime routine is the most important factor in ensuring a good night's sleep. Of those surveyed, 37% felt that the lockdown, which has brought a lack of structure to homes across the country, had an adverse effect on the bedtime routines for their little ones. And while settling babies and toddlers off to the land of nod is a struggle for most parents at the best of times, sleeping through is another matter. Teething (80%) and growth spurts (51%) were the main culprits for night-time waking, while almost a quarter cited the change in clocks as an added nightmare for sleep routines.
Aveeno Baby understands the power of a good nights' sleep at any age. The Calming Comfort range, made up of a Calming Comfort Bedtime Bath & Wash and Calming Comfort Bedtime Moisturising Lotion, has been specifically designed to create a step-by-step routine from bath to bed, incorporating calming scents to help relax baby and deliver a peaceful night for the whole family. The Aveeno Baby Calming Comfort 3-step routine consists of a warm bath, followed by a soothing massage and finally quiet time before bed, and is clinically proven to help baby fall asleep faster and stay asleep for longer. It seems Irish parents recognise the power of regular bedtime routines running like clockwork. Of those surveyed, 84% are advocates of quiet time or a story before bed to help settle babies while for those bathing their babies daily, 70% incorporate bath time in the countdown to bed.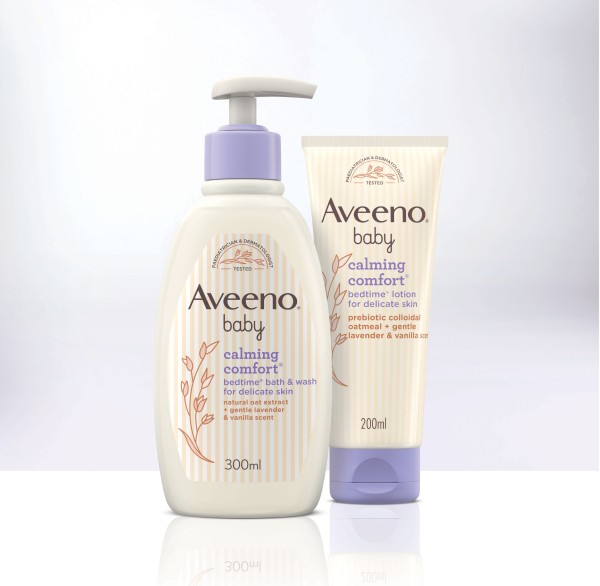 The power of routine is key to establishing healthy sleep habits. Research has shown that following familiar steps each evening can help to regulate your baby's body clock and establish a sleeping pattern. Paula Moriarty, Children's Nurse and Professional Skincare Consultant for Aveeno Baby says "We all know a tired baby is not a happy baby which can also lead to lost sleep for mum and dad. As more people continue to work from home, day to day life has changed for everyone. But with babies, consistency is key no matter what is going on in the world around them. This is particularly important at bedtime and little ones learn to rely on certain cues and draw comfort in these small moments. The inviting combination of both lavender and vanilla in this Calming Comfort bedtime range fill the room with calming and soothing baby friendly scents, to help relax baby ready for bed. So whatever changes happen to schedules, whether it's in the day to day of family activities, or as part of the bigger picture with the change in seasons, keeping a familiarity to baby's own bedtime routine is key, helping to provide calm and keep baby comfortable when they need it most".
The Aveeno Baby Calming Comfort range with its Bedtime Bath & Wash and Bedtime Moisturising Lotion can help provide that additional level of familiarity at bedtime. Tried and tested by Irish parents, 96% of those surveyed said they would recommend to a friend for their baby. While 81% said they loved the new range, it received a 99% positivity rating overall – making this new range a big hit with Irish parents and possibly the answer to many prayers at bedtime.
A lot of love goes into the formulation of Aveeno Baby, so that every baby can experience happy skin. Free from soaps, sulphates and dyes, the Calming Comfort Bath & Wash and Lotion leave delicate skin feeling clean, soft, moisturised and nourished. As with all the Aveeno ranges, the latest Calming Comfort products are also made from one of life's most nutritional grains - the Oat - a core super-ingredient that has stood the test of time, known to soothe skin prone to irritation by helping protect and restore the skin's natural barrier.
The new Aveeno Baby Calming Comfort range is available in pharmacies and most major retailers nationwide retailing at €6.99 RRP.