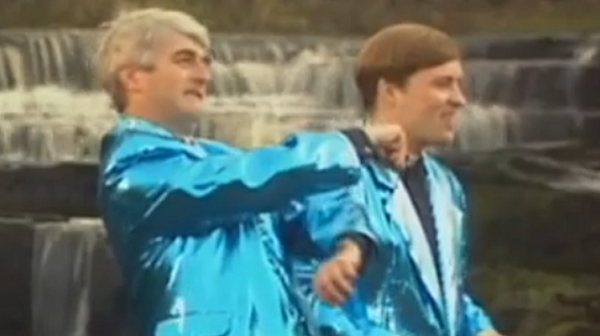 So, by now you will know that Electric Picnic is totally sold out, but there is still one way of getting there – if you're not afraid to make a bit of a fool out of yourself!
Event organisers are holding a very special Father Ted-themed competition at the festival, with contestants being asked to create an original 'Rubbish Song for Europe'.
Concocted to mark the twentieth anniversary of the legendary Eurovision episode of Father Ted, the contest will see participants doing a Ted and Dougal on it and recreating the 'My Lovely Horse' moment.
All those interested need to perform an original song – NOT a new rendition of My Lovely Horse – record it, and upload it to YouTube and through this link by 1st July.
The video must be under two minutes long, "with 'no-holes barred' production values, an evidence of some musical talent and a vigorous dress sense".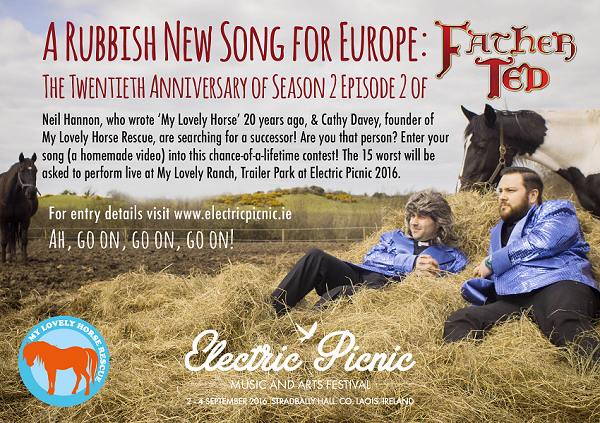 Shortlisted acts will then be asked to perform their song live for the judges (in either Limerick, Galway, Kilkenny, Cork or Dublin) in July or August, and three acts will be chosen from each heat.
The final 15 will then be invited to perform in the final of 'A Rubbish Song for Europe' at Electric Picnic Trailer Park 2016, with the winner being selected live at the 'My Lovely Ranch' area.
So, if you're feeling a little brave – and bonkers – and you would really like to show your love for Father Ted while taking in the delights of EP, what are you waiting for?
If you have any questions or queries, you are asked to contact frtedrubbishsongforeurope@gmail.com.
This should be VERY interesting.
SHARE with a die-hard Father Ted fan who would love a go at this.