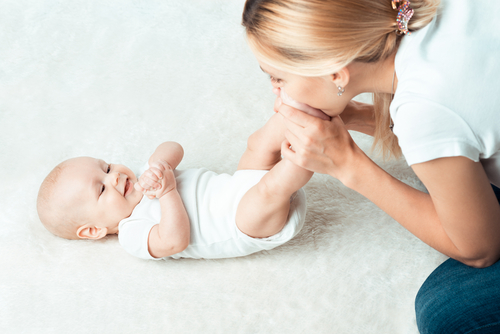 Newborns are cute and cuddly and we could spend hours simply staring at their sweet little face. Unfortunately, there is a lot more to a baby than cooing at them - here are six of the most common things you will have to cope with in your new life and how to do it.
Lack of sleep
Sleep will become a distant memory as soon as your little one arrives, and you will experience sleep deprivation no matter how good they are. There is no advice to make this easier, apart from sleep when the baby is sleeping – but this isn't really practical, especially if you have other children to look after. All you can do is ride it out and stock up on coffee. Lots and lots of coffee.
Feeding difficulties
Whether you are breastfeeding or bottle feeding, it can take a little bit of time for your baby to get the hang of it. And breastfeeding can actually be pretty sore for the first few days and even week. Patience and perseverance are key here. Everything will fall into place and you both will eventually get into the swing of things.
Dirty nappies
You will be surprised at how many nappies you will go through in one month. There is no getting away from it, so stock up on wipes, nappies, creams and baby lotions – the last thing you want to do is run out mid-change, especially if it is a really, really bad one. Another trick is to change them in one particular area in the home and have everything near you before you start.
Getting your own life back on track
You will eventually get your own life back on track – restart hobbies, go out with the girls or even enjoy a date night with your other half - but it will take time. Your body needs time to adjust and you need time to simply enjoy this amazing little bundle of joy in your life.
Remembering moments
Don't stress if you didn't manage to take a photo of the first time your little one smiled. It is more important to witness these incredible moments through your own eyes rather than through a lens.
Other things will take a back seat
Having a newborn in the house is incredibly hectic – you will be surprised just how much work is involved for someone so tiny. So don't stress if the vacuuming is left idle for a long time or that the washing machine hasn't been used for more than two weeks. This time won't last forever.