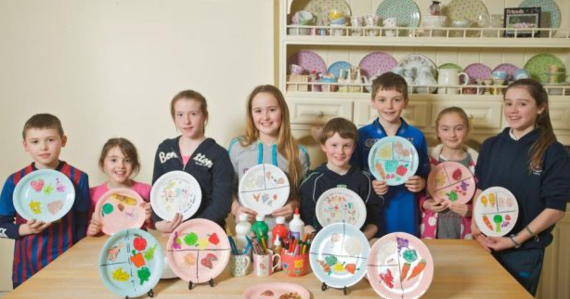 Due to the high levels of obesity in Ireland, school children in Terenue decided to take part in a move that will make youngsters more aware of childhood obesity.
The Get Wise About Portion Size campaign, which launched earlier this week, aims to help children make better choices on their eating habits.
Since many children have too much food on their plates, the team leader of the campaign, Fiona Phelan, took a hands-on approach to dealing with the issue.
Up to 2,000 children in five primary schools in Terenure including Loreto Grange Road Primary School and St. Joseph's BNS, took part in the initiative that used arts and crafts to highlight what a balanced diet should consist of.
"Education has to be visual and if you use your hands you'll learn better, so it was about getting the children to do something different to learn about nutrition in the classroom," she said.
These paper plates are now displayed in local shops around Terenue to teach more youngsters about plate portions.
A recent Growing Up In Ireland study showed that almost 20% of nine-year-olds were overweight in 2011 and since then the average plate size continues to grow.
Photo credit: Irish Times