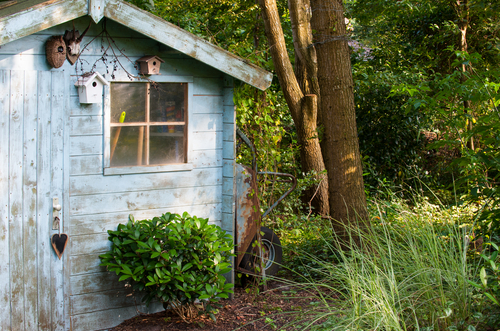 Got a shed out the back that's sitting idle with just the lawn mower for comfort? Well, why not put it to better use and turn into one of the ten following things - it deserves better than simply sitting in the garden feeling sorry for itself!
1. Laundry room
Get the piles of clothing out of your sight and designate the shed as the laundry room.
2. Summer house
Not going away this summer but could really do with a break? Why not turn the shed into a summer house complete with comfy couch and plenty of potted flowers.
3. Gym
If you can't afford a gym membership but really want to stay fit, why not turn your shed into a gym? A great way keep all your equipment out from under your feet as well.
4. Office
If you work from home but are struggling to get anything done with all the noise, head out to your shed and create an office in your garden.
5. Bar
If you love entertaining guests in your house, why not move the party out to the garden and turn your shed into a little bar.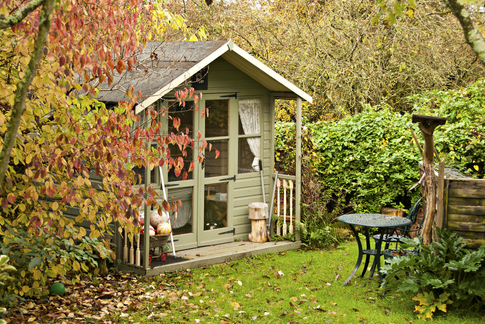 6. Book nook
There is nothing quite as relaxing as curling up with a book, although it can be tricky when you've got kids to look after. Pack your shed with comfy couches, bean bags, Christmas tree lights and bunting and spend your evenings losing yourself in a good book.
7. Cinema
With the use of a projector, a few cushions or some chairs you can turn your shed into a cinema.
8. Playhouse
Store the kids' toys in the shed and get your little ones outside. Not only will they have their own special place but you won't be tripping up over their cars anymore.
9. Games room
If you've got older kids, pop a pool table, dart board and a radio in the shed and they'll be out from under your feet in no time.
10. Potting shed
If you are a keen gardener and fancy growing your own fruits and veg, why not turn your shed into a mini garden.