With everyone spending their summer holidays in Ireland this year, you may be fooled into thinking you don't need to stock up on SPF. In fact, everyone who spends time outdoors is at risk of skin cancer, not just people who sunbathe. Statistics from the Irish Cancer Society reveal skin cancer to be the most common cancer in Ireland with over 11,000 new cases diagnosed in 2015. The National Cancer Registry of Ireland (NCRI) expects this number to double by 2040.
LloydsPharmacy is reminding customers that whether or not you think it feels like summer, the sun's damaging effects are still at work. You should use about a shot glass of sunscreen (35ml) for your entire body and apply it 20 minutes before going outside as this is approximately how long it takes before your skin is completely protected from UV rays.
Sinead McNabb, skincare expert with LloydsPharmacy ''Always choose a sunscreen that's broad-spectrum because this type of sunscreen protects against UVA and UVB rays. UVA rays are the ones that can cause wrinkles, while UVB rays are the ones that can burn. Don't be tempted to pick a lower SPF, you shouldn't use less than SPF 30. If you're unsure which suncare product will work best for you and your family, feel free to ask any of the highly trained LloydsPharmacy colleagues, who will happy to guide you.''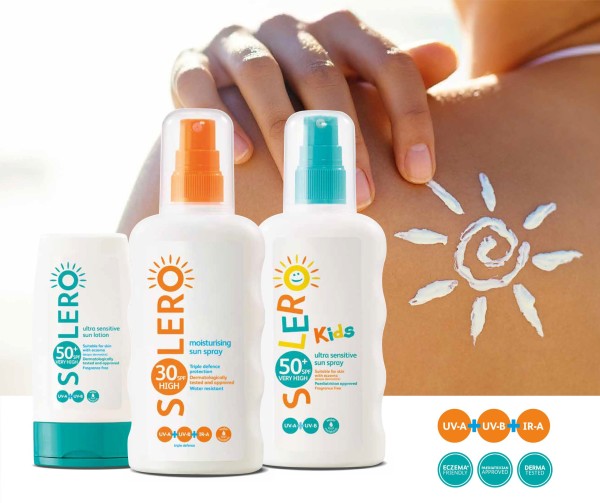 If you're looking for a family friendly yet affordable SPF, LloydsPharmacy's own brand Solero is perfect. This July and August there is 50% off this range in all 90 LloydsPharmacy stores nationwide.
Whilst most suncare products protect the skin against UV-A and UV-B rays, many of them do not protect against Infrared-A rays. The Solero range is specially formulated to provide triple defence against all three. The range has been specially formulated to help protect the skin cells against the negative effects of Infrared-A radiation and prevent premature skin ageing and sun-induced wrinkles.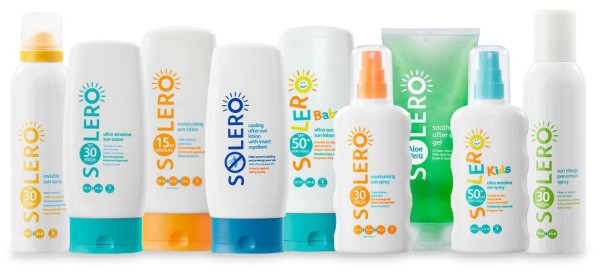 The range includes: SPF30 Spray (200ml, RRP €13.95, LloydsPharmacy Price €6.98) and the SPF50+ Spray (200ml RRP €15.95; LloydsPharmacy Price €7.98), which are perfect for protecting the whole family, whether you're holiday in Cork or Crete.
Kids SPF 50 Sun Lotion (200ml RRP €14.95; LloydsPharmacy Price €7.48), which is both ultra-sensitive and ultra-affordable with a non-greasy skin feeling and the Solero Invisible Sun Spray SPF 30 (200ml RRP €12.95; LloydsPharmacy Price €6.48), which is 100% transparent and suitable even for skin that is not acclimatised to the sun, just like a lot of Irish complexions.
LloydsPharmacy stores are open nationwide, visit LloydsPharmacy store locator for details on your local pharmacy location and opening hours. Feel free to pop in to find some and speak with our highly trained pharmacy teams, or alternatively you can call your local store.