With proven, anti-aging ingredients, research from the number one skincare brand at Boots reveals that 58% of women have noticed more lines and wrinkles while being in lockdown. So called 'lockdown lines' have been most noticed around the eye area with 33% of those questioned more aware of lines under the eye, 31% more aware of crows-feet and 30% noticing more forehead lines during the pandemic.
In a survey of 2,018 women, 41% of those who had noticed more signs of ageing on their face blamed it on the insomnia, reduced sleep and fatigue while 38% blamed it on seeing more of themselves on screen.
"Our lives have been deferred, yet we find ourselves with less time for self-care," explains aesthetician Dija Ayodele. "Lots of women are talking about noticing lines during lockdown: we're now more aware of them because we see our own faces more than ever before. While lockdown itself won't have caused these lines video conferencing platforms are like mirrors that reflect our faces for hours on end. If you're feeling acutely aware of any "lockdown lines", I'd suggest applying No7 Laboratories Line Correcting Booster Serum directly to those lines or mixing with your usual serum for an overall boost."

No7 Laboratories Line Correcting Booster Serum is No7's most supercharged serum to date. Formulated with seven times more Matrixyl 3000+ than previous clinically proven serums, this fast-acting, non-invasive targeted solution is clinically proven to reduce the appearance of wrinkles by up to five years.
Dr Mike Bell, No7 Skincare Scientific Advisor, says "Lines and wrinkles actually form in the skin over a long period of time due the reduction of key components in the skin, like the depletion of collagen and elastic fibrillin. For those seeking a more targeted solution to fine lines and wrinkles they have noticed in lockdown we recommend No7 Laboratories Line Correcting Booster Serum. The peptide blend of Matrixyl 3000+ in the Line Correcting Booster Serum is an ideal targeted solution for lines as it stimulates the collagen and elastic fibrillin that is lost early on in the ageing process and is clinically proven to reduce the appearance of wrinkles in just eight weeks."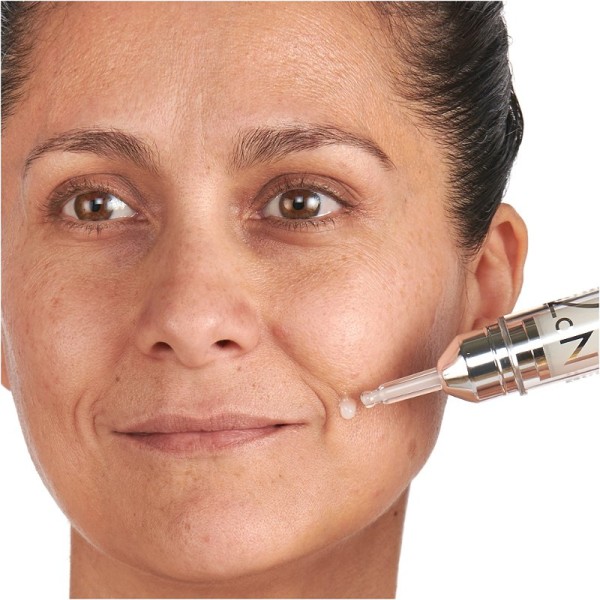 No7 Laboratories Line Correcting Booster Serum, available from Boots.ie now half price at €24.50 for a limited time only.
7 ways to help prevent the appearance of 'lockdown lines' by Dija Ayodele, Aesthetician and Skin Expert
Wear a day cream with SPF and 5* UVA protection even when inside: 80% of skin ageing is due to UV from sunlight, and up to 50% of UVA rays can pass through windows.
Frequent mask wearing may be causing skin concerns like blemishes or dryness. Keep up with a daily skincare routine to help boost skin's resilience, and you may want to cleanse after removing your mask especially if you have makeup on under it.
Try and prioritise sleep if you can. Acute sleep deprivation contributes to dark circles as well as the appearance of dull skin over time.
Given that we are spending more time inside, the heat from central heating draws moisture out of the skin), so your skin may be drier than usual. Ensure you are using topical creams in addition to Line Correcting Booster Serum (like the No7 Protect & Perfect Intense ADVANCED Day and Night creams) to keep your skin moisturised while your heating is turned up this winter.
Make sure you are getting enough vitamin D from your diet (or from supplements). Our main source of vitamin D is sunlight, but we may not be getting enough being inside most of the time, especially as it is winter too.
Stress, for example from working from home or home schooling can make skin more likely to fluctuate, so you may be noticing more bad skin days (or fluctuating skin). Make sure you keep up a daily skincare routine to help boost skin's resilience.
Ensure you are getting enough antioxidants through fruit and veg to help your skin fight oxidative stress, which is bad news for healthy-looking skin.