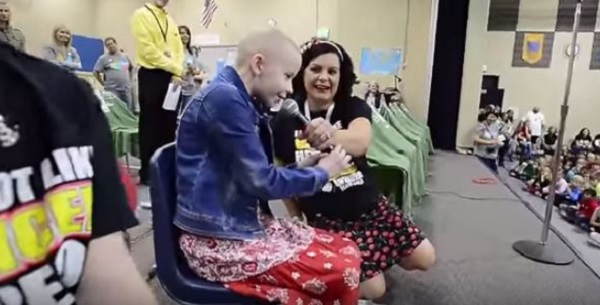 Dealing with cancer at any stage is incredibly testing, but particularly so for children, who are already dealing with the trials and tribulations of growing up.
You will no doubt be as amazed and heart-warmed as we are, then, to hear what one school in the US recently did when one of their own returned from a tough health battle.
Marlee Pack was just nine years old when she was diagnosed with Alveolar Rhabdomyosarcoma – a type of soft tissue cancer – and had to undergo 40 weeks of chemotherapy. By the time she returned to school, her hair was gone and she had had her foot amputated.
While Marlee may have been nervous ahead of her return to Meridian Elementary however, she was met with nothing but support.
With the help of their teacher, Marlee's best friend Cameron McLaughlin organised a fundraising event to raise money for childhood cancers. During the 'Be Bold, Be Brave, Go Bald' event, 80 students shaved their heads along with three teachers and two principals, all for a great cause.
Through the event, the school raised over $25,000 for St Baldrick's Foundation, to fight cancer.
You can watch highlights from the incredible event in the video below.
Well done to all involved.
SHARE to send a virtual pat on the back to all who took part.