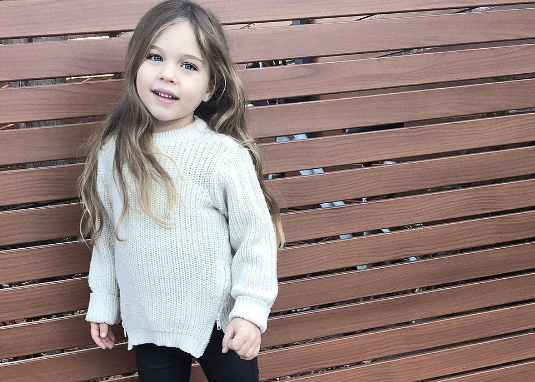 Clothing tends to be designed, created, displayed and marketed in store with a certain gender in mind.
This couldn't be truer when it comes to kids' clothes. Sections for girls feature a myriad of pink, sequins and frills, while clothes for little boys are sturdy and have a dominantly blue colour scheme.
So, after struggling to find anything suitable for her daughter, Riley, Australian mum Maddison Noble decided to make her own gender-neutral clothes.
When other people saw Riley's contemporary, neutral outfits, they wanted in - and so Maddison's clothing line Raising Riley was born.
The line doesn't label any item as being for boys or girls, and all the clothes are created to have basic, minimalist designs and a natural colour scheme.
They are also designed to withstand outdoor or rough play.
"It's hard for kids to express themselves and know the options that they have because of those stereotypes they see," she explained to the Daily Mail Australia.
"You hear kids say 'No that's for boys' or 'No that's for girls'. Not labelling the clothes gives them a bit more freedom to chose what they actually want to wear."
Jasmine Darcy, a parent to a non-binary teenager, commended Madison's line: "As a parent, I think it's a great idea.We put our children into boxes and that's when problems can arise," she told the Canberra Times.