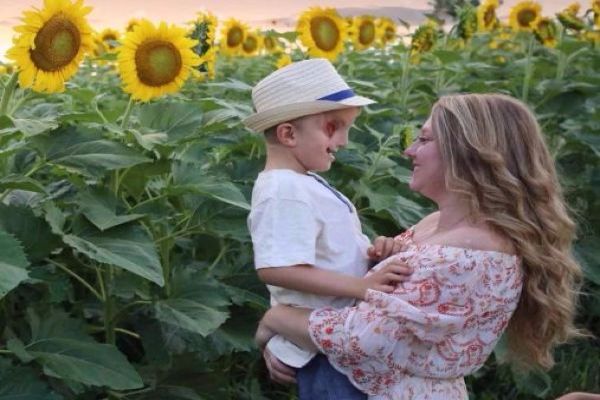 Christian Buchanan was born with a Tessier cleft and no eyes. Christian's mother, Lacey, was deeply concerned when she held him in her arms for the first time.
Christian was born with tissue in place of his eyes. Doctors informed his parents that he had parts of basic eye structure but nothing was fully formed or in correct alignment.
However, Lacey's fears soon waned. She embraced her child's condition and was determined to give him the best life possible.
Five years later, Christian has had seven surgeries carried out on his cleft palate but nothing has been done with his eyes as of yet.
"His mouth was such a priority that we had to focus on that," Lacey explained, in an interview with USA Today. "His eye construction – everyone asks me about it – it doesn't cause him any pain, and there is no reason to do it medically. We want it done to help him socially."
Christian's parents went on to say that they have faith that he will grow up to have a rich and fulfilling life, and he is enjoying life as a five-year-old.
"We want him to know it's never going to stop him," said Lacey. "We will never make him think he can't do something because he's blind. We don't want it to matter to him, so we don't want him to think it matters to us."
Lacey recently wrote a book on her and Christian's journey, titled Through the Eyes of Hope: Love More, Worry Less, and See God in the Midst of Your Adversity. The book was published only last month and is already receiving high ratings on Amazon and Goodread.com.
"Once I began reading this book, it was hard to put down. The way Lacey Buchanan told her story in Through Eyes of Hope is captivating and heart-wrenching
"She shares her story with honesty through sharing all the details of how each challenge she faced affected her," wrote one reviewer.
"I am so happy that she has been given such a platform to tell her story and to inspire others to be compassionate and loving towards children with disabilities, as well as sharing her story of going from a timid nervous first-time mother to a raging mama bear who became an advocate for her child," said another.
Lacey and Christian have a Facebook page that boasts over 345,000 followers as well as a YouTube channel.
Christian has proven to be a true blessing to his family and has taught them so much.