If I could sum up the Conrad Dublin Family Staycation experience in one word, it would be 'EASE'.
From start to finish our stay at
Conrad Dublin
hotel was easy. From our arrival into Dublin city centre, to the spacious and easy parking. The warm welcome on arrival, the welcoming staff, particularly with the children, it was wonderful.
Check in was seamless and very speedy. Within minutes we were off to our room, that is where the real excitement began!
There were literally shrieks of delight when our children, Elle (aged 10) and Ryan (aged 5) received their own key cards and realised that they had in fact gotten an interconnecting room. As a family we had never had this room set up before, and my goodness was it a welcome change from the cramped rooms with rollaway beds, sofa beds etc. that we are used to.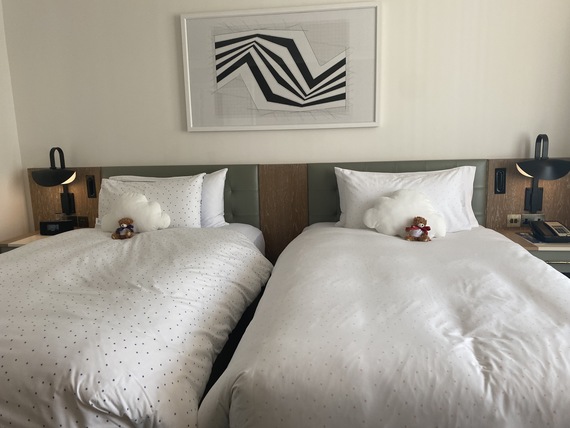 When the children reached 'their' room and 'their' front door, there was even more excitement when they found their beds. Colour coordinated linens in the softest bedding imaginable, compliments of The White Company. Blue for Ryan and Pink for Elle, a lovely personal touch.
We have since purchased the same The White Company bedding for the children to have at home, the thread count was so luxurious, and the children are very excited to have their 'hotel beds at home'.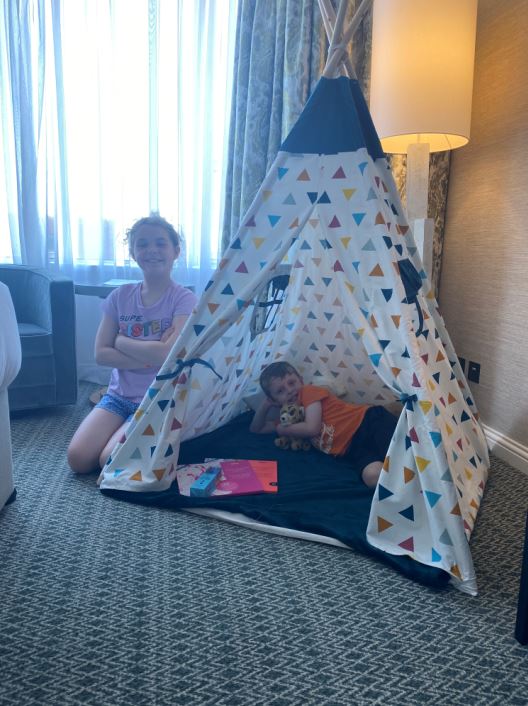 The welcome cookies, colouring pads and markers for each child, little teddies on their beds and the pièce de resistance, the tee pee! They had their own little hideaway with soft flooring and teddies to play with. All of course spotlessly clean and ready to play with.
The hotel operates under strict Covid 19 policies and procedures, so we felt really safe during our stay. Another thing the children loved was having their own TV in their room, so they could happily watch something they liked, when mum and dad relaxed in the other room.
Our room was equally impressive with THE most comfortable pillows on earth, I actually have had to check out who they were by, as it was like sleeping on marshmallows. I have been trying to source a couple of those pillows since we left the hotel for our own room at home!
The room had very welcome air conditioning that worked so well, given we arrived in Irelands Summer heatwave, we had noticed temperatures of 31 degrees Celsius on the drive up to Dublin!
Nothing could bother us though in this lovely environment and the room was such a luxury. Huge bath tub, fluffy bathrobes and slippers for all four of us, prestigious coffee machine and fridge with complimentary water, tea, coffee and hot chocolate. All the amenities provided made it really easy to unwind and relax in style.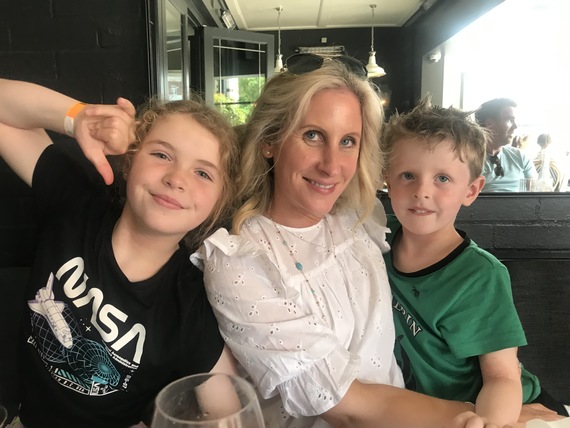 During our stay we dined in the hotel on both evenings, with the gorgeous weather we were able to sit outdoors, allowing us enjoy the Summer sun and the views of the National Concert Hall, which is directly opposite the hotel. Honestly, we could have been on the French riviera, it was wonderful.
The food on offer for the children was second to none, our children enjoyed steaks, chicken goujons and of course chocolate brownies and ice cream too! The children's menus were varied and offered healthy choices too. They were priced very fairly also with complimentary baby bowls on offer for more junior visitors too.
A huge shout out of the staff at the restaurant (and throughout the whole hotel in fact), they were so accommodating and genuinely cared about the children, chatting away with them and treating them as little VIP's, our children loved it. Food for adults was amazing too, we both really enjoyed our meals and would highly recommend Conrad Dublin for even a quick date night staycation for parents too.
Our daughter said the only bad thing about the stay was the having to leave part! My husband and I would agree with her 100%. It is one thing to have a wonderful hotel building and décor, plush bedding, superb location etc. but the staff really do make the difference. Well done to all the staff at Conrad Dublin for making us feel so welcome, particularly during Covid 19 times. We felt safe but also relaxed and comfortable.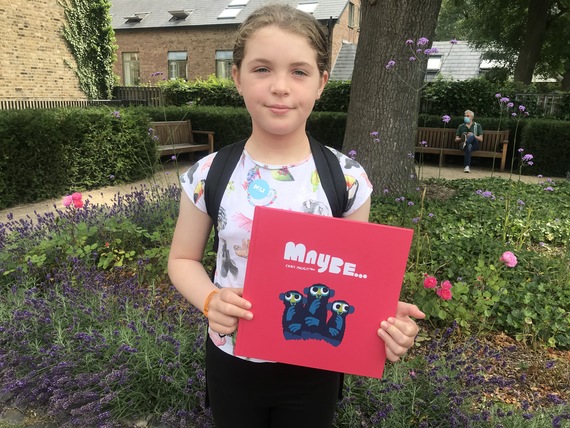 Another truly wonderful thing about Conrad Dublin is it's location. Perfectly located to fully explore what Dublin has to offer. We were delighted to attend the Chris Haughton exhibition at MoLI (Museum of Literature Ireland) which is only a stone's throw from the hotel. We were also lucky enough to meet Chris in person too, during his book signing. The children loved it.
Other places we explored during our stay included the EPIC museum in the Docklands area, the Jennie Johnson tall ship, St. Stephen's Green park and playground within the park.
We also did a really fun and informative Hop on Hop Off bus tour of Dublin. This can be picked up very easily within close proximity to the hotel, so it offers you a huge opportunity to see Dublin from an open-top bus.
Great on a warm sunny Summer day, exploring the city with the wind in your hair.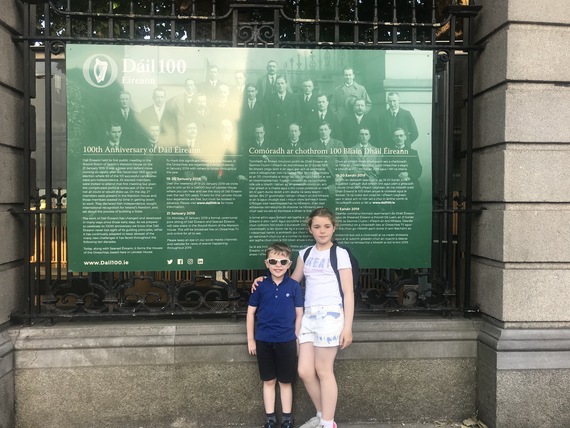 Shopping of course is always a great activity when staycationing too and we spent a fab few hours on Grafton Street exploring the Disney store, bookshops and other favourites for mum too!
Overall, we had an amazing stay at Conrad Dublin, we could have easily stayed longer, the children are already asking when we can return and we have been spreading the word to other family members and friends too.
Conrad Dublin
will soon run a competition on MummyPages social channels to win a Junior Staycation package, so be sure to enter to be in with a chance to experience all Conrad Dublin has to offer, you won't be disappointed!