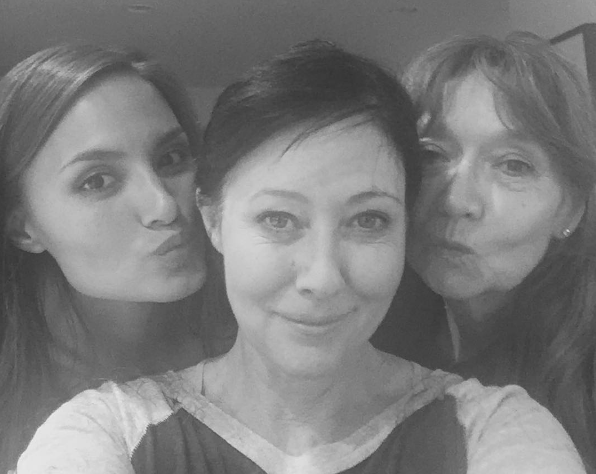 In February of 2015, actress Shannen Doherty was diagnosed with breast cancer and just a few short months later underwent a single mastectomy.
And yesterday she took to social media to thank someone who has been there through it all; her mum.
"Sometimes there's nothing like a mother's love to help get you through.
"Thank you mom for always being there and being so strong for me. I love you."
Rosa has been supporting Shannen through her illness and was previously seen in a heartbreaking picture with her daughter just moments before she shaved her head.
After making the brave decision, Shannen also shared praise for her husband saying:
"He loves me with pink hair or no hair. I'm blessed to have such a strong support team starting with Kurt who loves me more every second.
"Can't imagine my life without him. Cancer is not pleasant but it can bring out the best in relationships or the worse. Thankfully, it has made our marriage stronger."
Recently Shannen revealed that her cancer had spread to her lymph nodes and is currently undergoing chemotherapy.
"I had breast cancer that spread to the lymph nodes, and from one of my surgeries we discovered that some of the cancer cells might have actually gone out of the lymph nodes," she told ET.
"So for that reason, we are doing chemo, and then after chemo, I'll do radiation."
SHARE your support for Shannen.