If you go down to Longford's woods today you're in for a big surprise - the recently launched Center Parcs Ireland!
There's no better place for a family break than the Emerald Isle's lush, green wilderness that is Longford Forest. Just hop in the car and escape to a mecca of clean, green lands full of picture perfect lodges, family friendly adventure activities and Ireland's great outdoors.
Perfectly nestled amongst 400 acres of beautiful woodland, Center Parcs Ireland is set in a breathtakingly natural setting. From the moment you drive into the grounds you're surrounded by the picturesque leafy location.
We were greeted with huge, jovial smiles at the drive through reception situated at the entrance to Longford Forest. The check-in process runs like clockwork, you don't even have to exit your car. On registration we were given electronic wristbands as our keys for the weekend which would not only open our lodge but our swimming pool lockers too! With clear directions given to our accommodation and instructions for the car park, we were all checked in from the comfort of our car and excited to see our woodland lodge.
The Lodges
The wooden lodges are set among the tall trees and blend in with the nature that surrounds them. The steps leading down to the pathway to the front door have an adjoining ramp, so you can scoot your bikes down with ease. Outside the front door you'll find bike racks to park and lock your mode of transport (it's car-light environment) during your time in the forest. It's all cleverly thought out from the moment you arrive on the grounds to the moment you set foot in your lodge. You can even order a grocery pack of essentials that includes bread, milk, tea, gluten-free crisps and nutella delivered and waiting in your lodge upon your arrival.
Inside, you'll find modern, scandi style accommodation at its best. The 4 bed Woodland lodge is finished to a high standard throughout, spacious and tastefully decorated offering ample space for all of the family. Retreat to one of the four bedrooms on either side of the kitchen/living area for a little privacy. The divide between the bedrooms make it ideal for sharing with another family.
The open-plan living area is roomy and practical. Snuggle up on the large L-shaped couch in front of the log-burning fireplace while watching the TV. Or toast marshmallows over a barbecue on your private patio to the back of the lodge.
The lodges come fully equipped with everything you'll need for a perfect relaxing break, including a high chair and cot for Phoenix and a coffee machine for Donna! My sister, Donna did a tutorial on how to use the coffee machine, which is saved to my highlights on my instastory.
Subtropical Paradise
Included in your lodge accommodation is unlimited access to the Subtropical Swimming Paradise from 10am - 9pm. The man-made paradise is heated to 29.5C, 365 days a year and is Ireland's largest indoor water park. The natural sunlight beams through, thanks to the panoramic glass panel roof towering above the water park.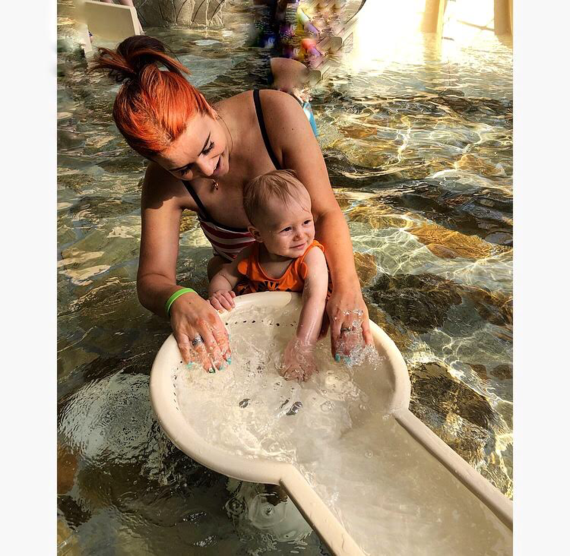 Phoenix was in his absolute element in the water play area, designed especially for babies and toddlers, with mini slides, fountains and splash pools. There are play pens and high chairs scatted around the water play areas for your convenience.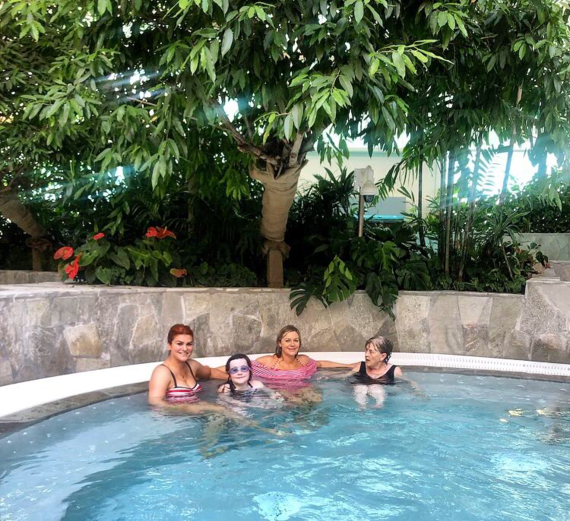 Nanny Joan couldn't get enough of the lazy river and jacuzzi, while Scott (age 14) spent most of his time on the rides and slides. Kelsey (age 9) beat her personal best of 10 times in a row racing down the Wild Water Rapids. There's something for every age and ability. My favourite was a tie between the Tropical Cyclone and the rapids with Kelsey!
It was definitely an advantage that there were so many of us booked in on the break, because it meant we could all take part in our favourite water activity while someone had Phoenix (10 months).
Activities
During our break we were booked in for outdoor Laser Combat. Laser Combat is a tag game played with guns which fire infrared beams. Infrared-sensitive targets are worn by each player. Basically it's like paint balling minus the mess and pain! Snazaroo army paint is provided so you can really get into character. I arrived sporting my army attire, as you do - I always have to look the part!
We were all surprised by how much we enjoyed the group activity. From Kelsey (age 9) to Donna (age 30+, a lady never reveals her age) our competitive sides came through and it was "game on"! 1 hour 15 minutes of ducking and diving, some screaming and the aim of the game - trying to beat our opponents. Needless to say we won!
For the slightly less adventurous, opt for adventure golf, archery, den building or falconry. Alternatively visit the man-made beach front area offering a selection of canoeing and water sport opportunities.
With up to 100 indoor and outdoor activities to choose from, all within the resort there's something for everyone.
Gluten Free Dining
Gluten free naan bread, I said it once and I'll keep saying it repeatedly, "they have gluten free naan in Center Parcs!!". I'd never been to an Indian restaurant that offer GF naan before, so I was a little excited when I saw the option on the menu in Rajinda Pradesh. I even got a photo with my naan bread. The waiters in the restaurants have allergen tablets so that you can check the dietary requirement options for all of the menus.
A week later, I'm still going on about the gluten free options available in Center Parcs Ireland. Don't even get me started on the gluten free waffles in The Pancake House - fluffy with crispy edges, honestly the best GF waffles I've ever tasted. And the GF pizza and beer delivered to our lodge on one of the evenings that we took advantage of the, "Dining In" delivery service. With the dining in option, guests can decide what they'd like on the day and place an order any time from 3pm. You can either collect your order from 5pm, or have it delivered for a small charge of €2.50.
I'd recommend booking in your restaurant reservations prior to your arrival at Center Parcs. The restaurants book up quickly. You can book restaurants, if you already have a break booked either sign in to your Center Parcs account or register and add your existing booking.
State of the art cosy wooden lodges, an indoor swimming paradise, forest activities and smooth cycling trails, there are lots of reasons to book your trip to Centre Parcs Ireland. They have all you need for a nature-inspired, fun-filled family break to remember.