St Patrick's Mental Health Services has announced the launch of 'Accept. Act. Adapt.', a campaign that encourages people across the country to look towards a future where mental health is accepted without stigma, and where people take action for their mental health and adapt to support good mental health in their daily lives.
To mark World Mental Health Day on 10 October, St Patrick's Mental Health Services is inviting members of the community to experience an innovative projection installation designed incollaboration with Sofft Productions, which will be held at The Townhouse at Arnotts from Monday, 9 October until Friday, 13 October from 11am – 4pm.
The projection experience aims to foster a sense of unity and understanding of mental health by sharing anonymous thoughts and meaningful advice from all members of the public; from those with lived experiences of mental health difficulties to those who simply have insight or messages to share. Everyone has mental health, and this can look different for everyone. Those wishing to anonymously share their reflections, experiences or contributions can visit the St Patrick's Mental Health Services' website, stpatricks.ie, and its social channels in advance of the exhibition.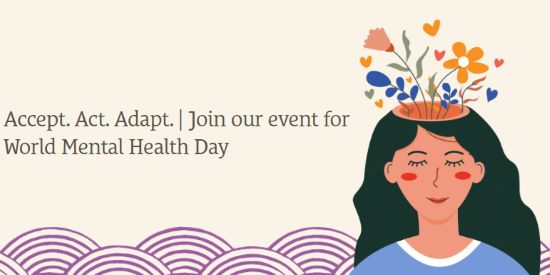 This visual installation will enable anonymous self-expression by taking the words of people in the community and transforming them into moving, yet impactful, visual displays projected within The Townhouse space, located on Level 3 at Arnotts department store in Dublin 1. Through this emotive installation, St Patrick's Mental Health Services seeks to challenge stigma surrounding mental health, to encourage conversations that matter and to inspire people to take action to support positive mental health and wellbeing.
St Patrick's Mental Health Services is committed to advocating for the rights of those experiencing mental health difficulties and to educating and empowering members of the community to look after their own mental health.
The mental health service provider is also set to host a free webinar entitled 'Accept. Act. Adapt.: A conversation on mental health' on Thursday, 5 October at 7pm. The webinar will provide a platform for open conversations around the acceptance of mental health difficulties and coping with stigma associated with mental health. Additionally, it will offer helpful advice to members of the community to act in order to support their own wellbeing, as well as providing first-hand information on how life can be adapted to support good mental health.
The webinar will bring together a panel of experts, including people with lived experiences, for a conversation on mental health in Ireland. The webinar is open to everyone; whether you're experiencing mental health difficulties, supporting someone experiencing mental health difficulties or simply want to learn more about how to build positive mental health practices into daily life. Those interested can register by visiting StPatricks.ie or Eventbrite.ie.

Speaking about the launch of the 'Accept. Act. Adapt.' campaign, Paul Gilligan, Chief Executive Officer (CEO), St Patrick's Mental Health Services, explains why he hopes this campaign will encourage everyone to get involved in supporting and reflecting on their mental health.
"St Patrick's Mental Health Services is delighted to launch this important campaign to celebrate World Mental Health Day, and to build on progress made to date in creating a future where everyone is empowered to live a mentally healthy life. Accept. Act. Adapt. is a great opportunity to discuss acceptance and awareness of mental health and to encourage members of the community to take action and seek support when it comes to their mental wellbeing. We also hope that the campaign will highlight that, with the right resources and tools in place, everyone can enhance and protect their mental health."
#AcceptActAdapt
For further information, visit StPatricks.ie.