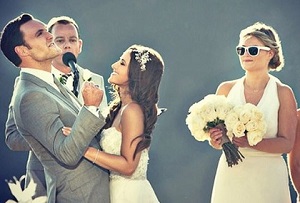 We have yet more fantastic baby news this weekend, as it has been revealed that actor Owain Yeoman has become a dad.
The Mentalist star's wife, Gigi Yallouz Yeoman, gave birth to the couple's first child, a daughter named Ever Belle, this weekend.
An ecstatic Owain took to his social media channels to share the wonderful news, posting an adorable photo of his little one grasping his finger.
"Daddy loves you my beautiful girl!" wrote the delighted 36-year-old. "Your hands may be tiny but your hold on our hearts is enormous!"
People magazine confirmed that little Ever Belle was born weighing in at 6 lbs., 11oz., and at 19 inches in length.
Owain and Gigi wed in September 2013 and announced their lovely baby news last October.
"We are overjoyed to announce our pregnancy!" the couple said at the time, adding, "Obviously this is big news for our French bulldog Cash, who up until now has been an only child. We are pretty certain the baby was made in Wales and that definitely made Owain, a proud Welshman, extremely happy!"
Congratulations to Owain, Gigi and their family on their lovely addition to the family.